Gigabyte GV-RX70P256V X700 PRO Silent Videocard Review
---
The last couple of years have been hard on gamers as ATi and nVIDIA have both been cutting back on the 'value' in their mainstream and budget videocard lines. You certainly don't get as much these days as you did in the GeForce4 era. Back then, mainstream cards were basically technologically identical to the flagship products, just clocked slower and/or equipped with less memory.
In recent days, it seems the favorite way to 'economize' has been by building a core with less rendering pipelines. I guess this makes more economic sense, but from a performance standpoint it's not very exciting... With that said, the budget videocard 'dark ages' may coming to an end. Both ATi and nVIDIA are again packing more into their mainstream line of videocards, or at least quite a bit more than in the last two generations!
PCstats will be testing out Gigabyte's new Radeon X700 PRO videocard, the GV-RX70P256V, in this review for you today. Sporting the ATi Radeon X700 PRO GPU and 256MB of memory, its most obvious feature is the complete absence of any sort of noisy active cooling solution. Instead, the GV-RX70P256V runs a single heatpipe from the front heatsink to the pair of massive heatsinks on the back of the card, Zalman style. This heatpipe distributes the heat from the GPU equally across all heatsink surfaces. This is one of the first commercial based on a relatively advanced GPU that we've seen forgo any type of fan-cooling solution, and it might well endear ATi to gamers who value a quiet PC system. We'll have a little more on this interesting cooling technology later in the article.

Gigabyte GV-RX70P256V



Includes:

Users Manual, Driver CD, PowerDirector 3 CD, Joint Operations CD, Thief: Deadly Shadows CD, Component VIVO breakout box, DVI to analog converter
The Gigabyte GV-RX70P256V's X700 PRO GPU is clocked at 420MHz, and its 256MB of Samsung K4J55323QF-GC20 memory runs at 864MHz stock. It is a PCI Express x16 card, so AGP motherboards need look elsewhere as the two slots are not compatible. The card sports a standard set of connectors; one analog VGA, one DVI video and one S-video port on the card itself. The included breakout box supports several extra ports, including a set of component outs for HDTV!
Those of you who strive to maintain a quiet PC might like the Gigabyte GV-RX70P256V. Since the videocard uses entirely passive cooling, it's completely silent. The heatsinks and the heatpipe do get very hot during operation so you'd better have good airflow in your case, but other than that, the thermal solution evidently works well enough to cool the GPU without causing any instability. Since this card is cooled by airflow within the chassis, it is critical that its' heatsinks are not obstructed with any cables, on or in front of the videocard. Should they disrupt the airflow to the Gigabyte GV-RX70P256V, it could lead to overheating.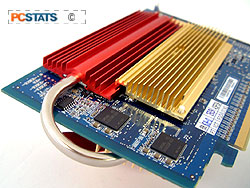 Although the Gigabyte GV-RX70P256V has moderately large heatsinks, it does not take up that much space and will not eat up the expansion slot below your PCI Express x16 port. The heatsinks are slim, and do not stick out more than ~10mm on either side.
Gigabyte ship the GV-RX70P256V with a pretty decent software bundle that counts among its list: full versions of Joint Operations and Thief: Deadly Shadows, Powerdirector 5 and Powercreator 3. Gigabyte has also thrown in a DVI-to-analog converter and a component/TV/VIVO break out box.
The instruction manual that comes with the videocard is extremely detailed, even covering topics like flashing the videocard BIOS, a subject too taboo for most manufacturers!
The breakout box that the Gigabyte GV-RX70P256V ships with plugs into the card with a single PS/2 like cable. Aside from the component outputs (Y, Pb, Pr) we mentioned earlier, it features composite and S-video inputs as well as another S-video out and a mode switch to choose between the component and S-video outputs.
It would have been nice if Gigabyte had also included some S-Video/composite and HDTV cables with the bundle. As it is, you'll need to buy the appropriate cables to connect your PC to a TV or video source, so that is a slight drawback of having a break-out box rather than a set of jumper cables.

Differences Between HDTV and S-Video
These days, it's pretty standard for a videocard to feature TV-Output. With ATI's recent support of the HDTV standard, we're now starting to see Radeon-based videocards with component output (Y, Pb, Pr) instead of just the usual s-video and composite (RCA) outs.
For the sake of comparison, we're going to show you the difference between traditional S-Video output of a computer desktop to a TV screen and the higher quality component output. We're not going to go into the details of why component output is better, or what is supposed to be happening with HDTV, as that is beyond the scope of this review. Below are two side-by-side screen captures which illustrate the potential of component output compared to S-video output when rendered on an HDTV-compatible screen.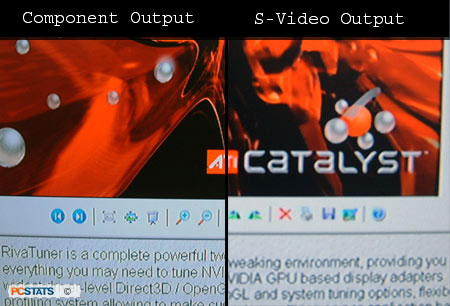 On the left is component (Y, Pb, Pr) output and on the right is S-Video. As you can clearly see, the text and images (look at the ATi logo) are much sharper and crisper with component output. The s-video equivalent is noticeably blurred in comparison. Now let's have a closer look at that heatpipe strapped to the Gigabyte GV-RX70P256V videocard.