Maximum DDR2 Overclock Speeds, Timings and Conclusions
It's great to see how individual memory stacks up against the competition under stock configurations, but we're also going to show how it compares when overclocked. With performance in mind, we're going to compare the maximum overclocked results of the various DDR2 DIMMs we've tested in the past and are listed below. Remember, just because memory is clocked fast doesn't mean it's the best thing for a computer. Timings are also important and getting the right ratio of both is the key!
Maximum Overclocked Speeds - PCstats Results

Intel System Results

Timings

Max Speed

Ranking

PDP Systems Patriot PC-4200 DDR2 XBL
4-3-3-12
672 MHz
PQI Turbo PQI25400-1GDB
4-4-4-12
660 MHz
Mushkin PC2-4200
4-4-4-12
614 MHz
Crucial Ballistix PC2-5400*
3-3-3-9
575 MHz
Crucial PC2-4200*
3-3-3-9
575 MHz
Samsung PC2-4200*
3-3-3-9
575 MHz
* - Will be retested in the future with new BIOS that doesn't limit motherboard clock speed to 216 MHz.
Who said larger DIMM's don't overclock well? ;-) The PDP Systems Patriot PC2-4200 XBL memory overclocks higher than anything we've ever tested on the DDR-2 platform, and with slightly better timings too! Definitely very good RAM!
Big, blue and fast!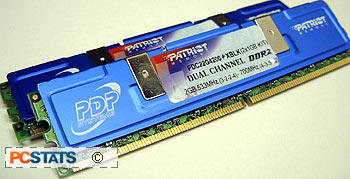 With the amount of bloatware out there, 1GB of system memory often doesn't feel like enough. When multitasking between a couple different programs, while playing MP3's and surfing the internet, sometimes I end up just waiting for the system to catch up. Those who have gone to 2GB worth of system memory tell me that multitasking is really quicker and smoother, I think I'll have to give it a shot in the near future. ;-)
PDP Systems new Patriot line of DDR-2 memory is aimed directly at enthusiasts and power users who only want quality hardware. The PDP Systems Patriot PC-4200 DDR2 XBL kit consists of two 1GB sticks of memory and is rated to run at PC4200 while using 3-2-2-4 memory timings (at 1.8V). Those of you who like to push things to the limit will be pleased to hear that the PC2-4200 XBL memory can run as fast as 700 MHz with 4-3-3-12 timings (at 2V). Simply amazing!
At stock speeds, when running a single application the PDP Systems Patriot PC-4200 DDR2 XBL was slightly slower than the 1GB reference sets, but really shines when we running test like Business Winstone 2004! In that example, the test system was a good 5-10% faster.
In terms of overclocking, the Patriot PC2-4200 DDR2 XBL memory does extremely well for itself. At the moment, it is among the best overclocking DDR-2 DIMM's we've tested! We were able to hit a maximum speed of 672 MHz with 4-3-3-12 memory timings, and who knows how high the memory could have gone with a slightly better CPU. The Intel Pentium 4 540 was already well past the 4 GHz mark during testing... and going further with air cooling was just asking too much of it.
PDP Systems Patriot PC-4200 DDR2 XBL memory retails for about $535USD, but that is to be expected; after all it's a 2GB kit of DDR-2 memory that's built for the performance enthusiast! And boy does it live up to its eXtreme Bandwidth and Latency name!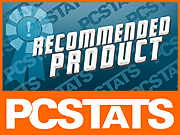 Find out about this and many other reviews by joining the Weekly PCstats.com Newsletter today! Catch all of PCstats latest hardware reviews right here.
Related Articles
Here are a few other articles that you might enjoy as well...
1. Mushkin 1GB PC2-4200 DDR-2 Memory Review
2. PQI Turbo PQI25400-1GDB DDR-2 Memory Review
3. Crucial Ballistix PC5300 DDR2 Memory Review
4. Samsung DDR2-533 PC4200 Memory Review
5. Crucial PC4200 DDR-2 Memory Review