PDP Systems Patriot PC2-4200 DDR2 XBL Memory Review
---
When it comes to memory, there are two eternal truths; it can never be fast enough, nor in a large enough quantity. For the longest time, 1GB of total system memory has been the sweet spot for PC systems. Yet, with programs like Norton Systemworks 2005, Adobe Acrobat 6.0 and MS Office 2003 demanding more resources than ever, often 1GB of system RAM doesn't feel like enough anymore!
Enthusiasts and gamers often stick to systems with at least 2GB of system DDR RAM, and aside from rewriting programs to use less memory or be more efficient, it's the next logical step for the rest of us as well. So with that in mind, PCstats will be examining a pair of 1GB DDR-2 modules from PDP Systems. Called the Patriot DDR-2 eXtreme Bandwidth and Latency Kit. Each of these 1GB PC2-4200 XBL sticks of memory have official timings of 3-2-2-4.
DDR-2 RAM is still slowly gaining momentum, but it's only a matter of time before the entire computer industry (Intel and AMD) moves over to the DDR-2 standard.
In any case, what we have on the test bench here today is some rather nice DDR-2 RAM running at 533 MHz (PC4200), with timings of 3-2-2-4. When those timings are loosened up to 4-3-3-12, PDP Systems PC2-4200 XBL RAM is almost able to 'fly' at 700 MHz, or PC2-5600 speeds! If you're wondering what "XBL" stands for it, it's the acronym for "eXtreme Bandwidth and Latency," and looking at the specs for these 1GB modules... it sure does look that way!

PDP Systems Patriot PC-4200 DDR2 XBL
By default the PDP Systems Patriot memory is rated to run at 533 MHz, or PC4200 speeds with a voltage of 1.8V. These are the tightest timings we have seen yet on DDR-2 DIMMs, and should give these sticks of Patriot memory that little extra "umph" over the competition. Loosening the timings to 4-3-3-12, which is still pretty aggressive, should mean that we'll be able to run them at about 700 MHz with 1.9-2.0V!
Since DDR-2 memory is based on BGA DRAM, the DIMMs are protected with blue aluminum Neng Tyi heatspreaders. During testing the memory really only became mildly warm, and the heatspreaders are there more to prevent physical damage from occuring than anything else.
PDP offers a lifetime warranty with their memory, and that's reassuring since they've been in business for almost 20 years. One thing that I really liked was the toll free 1-800 number that's listed on the packaging; nothing better than a number that I can call for support!
PCStats Test Methodology and Overclocking
PCstats tests DDR-2 memory on Intel Pentium 4 platform, since DDR-2 has not yet been introduced into the AMD world. While we do test to see how high memory can go with aggressive 3-2-2-7 memory timings, and the 3/4 memory divider enabled, we also loosen things up to see how high the memory can go. The reason for this extra test is that Pentium 4 systems do not seem as reliant on lower latency timings as AMD systems have in the past, and having a higher clock speed can counteract the negative effect of higher timings.
Because much of our audience is made up of enthusiasts, PCstats also runs overclocking tests so you can get an idea of how far the memory will go.
Overclocking the sucker!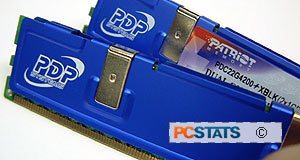 We've never dealt with memory products from PDP Systems before, but considering it states on the DIMMs that the PC2-4200 XBL memory is good up to 700 MHz, we had some pretty high hopes.
Keeping the 266 MHz (3/4 memory divider) enabled, we slowly increased the FSB of the Gigabyte GA-8ANXP-D test system motherboard while keeping the most aggressive memory timings possible. Without much fuss the PC2-4200 XBL memory was able to crack the 600 MHz mark, but for us to hit 650 MHz we had to raise the DIMM voltage to 2.0V.
PDP System's PC2-4200 XBL memory wouldn't go much higher than that, although with aggressive timings we were forced to loosen things up at 247 MHz FSB, or 659 MHz mark, which was the memory's operating frequency. Unfortunately the Intel Pentium 4 540 CPU we use for testing would not overclock high enough for the PDP Systems Patriot memory to fully hit 700 MHz. In the end we were only able to achieve a maximum overclock of 672 MHz, but I suspect the system was holding the PDP Systems Patriot PC2-4200 XBL memory back.