Corsair Flash Voyager 512MB USB Flash Memory Review
---
When it comes to moving data around, USB flash memory drives are probably the most convenient storage medium available. While there is now a ready supply of affordable recordable DVD media, it's only truly useful so long as the PC has a DVD burner. USB flash memory drives, like Corsair's Flash Voyager on the other hand are fully compatible with every computer with a USB port, be it a Pentium II class system or the latest Athlon64 FX.
With USB memory drives gaining popularity, manufacturers are jumping into this market as quickly as possible. Corsair , a name we're all familiar with for their enthusiast quality SDRAM and DDR memory has recently entered the flash drive industry with the aptly named Flash Voyager. In this review, PCStats is testing Corsair's new rugged Flash Voyager 512MB USB 2.0 drive. With a retail price of $73 CDN ($59 US), the Flash Voyager is priced around the same as most other 512MB USB flash drives. It boasts read speeds of 19MB/s, and write transfer speeds of 13MB/s.
Also included with the Corsair Flash Voyager 512MB USB drive is a driver CD for Windows 98 users, a 65cm long USB 2.0 extension cable and a blue lanyard. Hey, if people are wearing cell phones around their neck, why not USB flash drives too? ;-) According to the documentation, the Flash Voyager has a 10 year warranty, more than long enough for the average person.

Corsair Flash Voyager

Includes:

Driver CD, USB Extension Cable, Neck Strap, Warranty Card, Users Manual
Corsair encases the Flash Voyager in a rubber casing which dramatically increases its durability. If you drop this thing, it's probably not going to break into a million pieces,. In fact we did a drop test down a flight of stairs and aside from being a bit dirty, the Flash Voyager was no worse for wear. The little black drive is also being promoted as "water resistant" which could mean anything from resistant to splashes, or light spray....

The Corsair Flash Voyager measures 75mm x 24mm (at its widest) x 15mm. There is a small blue activity LED at the end of the drive, and when the device is being accessed, shines a bright neon blue in colour.
With any other USB key on the market you'd look like a dork if you hung it around your neck but I have to say the Corsair Flash Voyager actually looks pretty good. At first glance it simply looks like a piece of jewellery, and if you didn't know you were looking at a flash memory drive, I doubt anyone would figure it out.
Out of the box the Corsair Flash Voyager is plug and play compatible with Windows ME/2000/XP OS's as well as Linux and even Mac! According to Corsair, the Flash Voyager supports sustained read speeds of 19MB/s and sustained write speeds of 13MB/s. Both read/write speeds are approximately double the average USB key which makes the Flash Voyager extremely quick! When I bought my Sandisk Crusier Mini earlier in the year it was one of the fastest drives on the market, the Corsair Flash Voyager is twice as fast!
Of course nothing in life is perfect, and the Flash Voyager does have its fair share of potential faults. First the rubber casing does make the drive a lot more durable than the average plastic USB key, but it also attracts a lot of dust and dirt.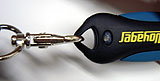 If you put it in your pocket, all the dust bunnies inside will cling to the Flash Voyager and cleaning the thing after its dirty isn't fun.
After a bit of use I noticed that the rubber cap has expanded a bit and now sits loosely on the USB connector. It's only a matter of time before it's lost, Corsair should have some sort of clipping mechanism to make sure the cap stays on nice and tight.
Lastly, it's very possible to tear the O-ring at the end of the Flash Voyager if you pull on it too hard, exercise a bit of caution when using the neck strap!