Abstract: Wondering what hardware you should really be thinking about getting? Our man from the 'front lines' in computer retailing has the scoop - with this week's round up!

Home > Reviews > Editorial > PCstats
Whats Hot, Whats Not...
---
Hi I'm Bao, and welcome to the first edition of "What's hot and what's not." My daytime alter ego is that of a common run of the mill computer salesman, but with that background I will try to highlight what's hot and what's not with computer components right now.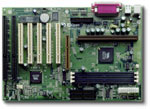 CPU's and Motherboards
The SECC II Pentium III 550E is currently the most sought after CPU for PC enthusiasts. This wonderful little CPU from Intel has everyone excited; the 133mhz FSB overclock is almost guaranteed, with many people reporting scores well beyond that. And guess what? The price is right, at $344 CDN ($236 USD) there doesn't seem to be any reason why not to get one. So what we have here is an incredibly overclockable CPU that sports Intel's SSE instructions and 256KB of on die Advanced Transfer Cache.

But question remains: what motherboard to pair it with? The Asus P3V4X is the answer, as it seems to be the most popular motherboard to overclock the Intel Pentium III 550E with. The Asus P3V4X is powered by the VIA 133A chipset which sports some nifty features such as; PC133/133mhz FSB support, ? AGP divider, and asynchronous ram speed settings. In addition to the excellent VIA 133A chipset, the P3V4X brings some other encouraging features to the table, such as: 4 DIMM slots, Jumper-less CPU configuration, and the ideal 1/6/1 (AGP/PCI/ISA) configuration.
I know there are a lot of AMD Athlon fans out there, and I'm happy to say that they represent the best price/performance ratio for new systems. If you are looking at purchasing a new computer system, the Athlon is priced more attractively than Intel counterparts. The AMD Athlon 600mhz in a full retail box goes for $329 CDN ($225 USD) versus the Intel 600E FCPGA in a full retail box that carries a $405 CDN ($277 USD.)

Not surprisingly, now that the Athlon is so incredibly affordable, AMD Athlon system sales have picked up tremendously. It's a refreshing change to see how the demand and sales of non-Intel solutions have forced prices to plummet on previously unaffordable CPU's.

Once again the question: what motherboard should one get with an Athlon? The answer is the Asus K7M. It's true that this board is not perfect, but that's what you get when you stray away from the Intel 440BX chipset. This board has been around for a longtime and has excellent support. The K7M uses the AMD 751 Northbridge and the VIA 686A Southbridge. It has support for 4 USB ports, 1 AGP, 5 PCI, 1 ISA, and 3 DIMM slots.

Hard Drives
When purchasing, a new hard drive, many consumers are left to decide whether size or speed should rule. Well my friends, we live in good times, as large and fast hard drives are very affordable. An IBM 20GB, 7200 RPM, with 2MB cache goes for $252 CDN ($173 USD.) The Quantum KA and KX lines of hard disk drives are incredibly popular; they are on average a few dollars more expensive than the IBM drives.

The IBM and Quantum 7200 rpm drives are performing at a high standard, and day to day performance differences are not really noticeable, what it boils down to is brand preference. While I personally prefer the IBM drives to the Quantum KA/X line, our sales figures reflect on the popularity of the Quantum drives over the IBM's.
SEARCH PCSTATS

---

Use the power of Google to search all of PCSTATS and the PCSTATS Forums. Tell us what you think of this new feature - FEEDBACK?