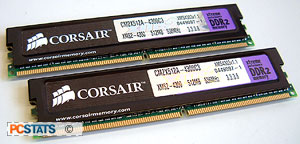 Keeping the 3/4 memory divider enabled and starting at 200 MHz FSB, we slowly raised the clock speed on the Gigabyte testing motherboard, but things didn't start off too well for this set of Twin2X1024-4300C3 memory. We had to raise the voltage to 1.9V at 213 MHz to stabilize the system, otherwise it would crash back to desktop while running 3DMark05 tests.
Continuing upwards with the new voltage settings, we managed to hit 231 MHz FSB before seeing more stability problems from the DDR-2. Again, raising the voltage was the fix. With 2.1V running through the memory we continued to push the Twin2X1024-4300C3 higher, and in the end it hit a maximum speed of 245 MHz FSB, or 653 MHz!
Not too bad for memory that's only rated to run at 538 MHz. During the overclock we kept the same 3-3-3-8 memory timings all the way through, which is definitely good.

PCStats Test System Specs:
processor:

intel pentium 4 540

clock speed:

16 x 200 mhz = 3.2 ghz
16 x 246 mhz = 3.93 ghz

motherboards:

gigabyte ga-8anxp-d (i925x)

videocard:

msi rx800xt-vtd256e

memory:

2x 512mb crucial ballistix pc5300
2x 512mb mushkin pc4300
2x 512mb pqi turbo pqi25400-1gdb
2x 512mb corsair twin2x1024-4300c3

hard drive:
40gb western digital special ed
cdrom:
msi x48 dvd/cd-rw combo drive
powersupply:
vantec 400b ion
software setup

windowsxp build 2600
intel inf 6.00.1045
catalyst 4.11

workstation benchmarks

business winstone 2004
sisoft sandra 2004
pcmark2002
pcmark04
3dmark2001se
ut2003
ut2004
Winstone 2004
Source: Zdnet
Business Winstone 2004 is a system-level, application-based benchmark that measures a PC's overall performance when running today's top-selling Windows-based 32-bit applications on Windows XP. Business Winstone doesn't mimic what these packages do; it runs real applications through a series of scripted activities and uses the time a PC takes to complete those activities to produce its performance scores.
Business Winstone 2004:
Memory
Points
Ranking
2x 512MB Mushkin PC2-4200 (200/533)
23.7
2x 512MB Crucial Ballistix PC2-5400 (200/533)
23.5
2x 512MB PQI Turbo PQI25400-1GB (200/533)
22.7
2x 512MB Corsair Twin2X1024-4300C3 (200/533)
23.5
2x 512MB Corsair Twin2X1024-4300C3 (245/653)
24.6
The Corsair memory performs exactly the same as the Mushkin PC2-4300 and Crucial Ballistix PC2-5400 DDR2 memory which is very good. Overclocking boosts office performance a bit, although you probably wouldn't notice it.
SiSoft Sandra 2004
Source: Sandra
Sandra is designed to test the theoretical power of a complete system and individual components. The numbers taken though are again, purely theoretical and may not represent real world performance. Higher numbers represent better performance.
Sisoft Sandra 2004 Benchmark Results
Memory
Integer SSE2:
Float SSE2:
2x 512MB Mushkin PC2-4200 (200/533)
5344
5362
2x 512MB Crucial Ballistix PC2-5400 (200/533)
5383
5375
2x 512MB PQI Turbo PQI25400-1GDB (200/533)
5346
5353
2x 512MB Corsair Twin2X1024-4300C3 (200/533)
5364
5369
2x 512MB Corsair Twin2X1024-4300C3 (245/653)
6180
6174
At stock speeds the Corsair memory has about the same bandwidth as all the other DIMMs. Overclocked, we're able to break the 6000MB/s barrier.