MSI SW8G 8-Port Gigabit Ethernet Switch Review
---
While motherboard manufacturers have been bundling Gigabit networking into many of their medium to high-end desktop motherboards for the last year, there has not really been much other consumer level Gigabit equipment available. Without the appropriate supporting hardware, Gigabit NIC's have been more of a checklist item than an end user feature to this point.
Currently, anything Gigabit (except for consumer level NICs) is expensive, but that shouldn't be much of a surprise. After all, 100Mb/s peripherals also carried a hefty price premium over 10BaseT hardware for a long time after they were first introduced. This price difference existed pretty much until Gigabit Ethernet (1000Mb/s) was released.
Today PCstats is testing out the MSI SW8G, which is a 8-port Gigabit Ethernet Switch. It's intended for SOHO business/server operations, but it can also be useful to home users who demand a lot of bandwidth. Of course, the MSI SW8G is also backwards capable of 10Mb or 100Mb operation for PCs that aren't up to Gigabit spec yet.
The switch can be mounted in a standard 19" server or telco rack with its included hardware, or rubber feet stuck on the bottom and just left on a desktop. Other accessories include a slim but detailed users manual and a power cable.

MSI SW8G Gigabit Switch

Includes:

Users Manual, Rack Mounting Kit, Rubber Feet, Power Cable
The MSI SW8G is 320mm x 205m x 44mm in size, 1U in height for the rack people, with a full metal casing. Stacking things on top of the SW8G shouldn't be a problem. For those of you who are upgrading or expanding an existing wired 10/100Mb network, the MSI SW8G will function just fine with the your existing Cat-5 Ethernet cables.
The front of the SW8G is plainly laid out and easy to read. The eight Gigabit ports are labelled and the array of Link/Activity LED's are easy to understand.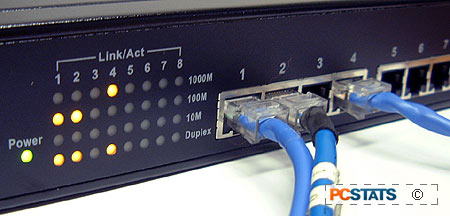 Obviously, when the Power LED lights up the SW8G has power. If the 1000M LEDs are lit that means there's a Gigabit connection on that port; if it's the 100M LED then you have a 100Mbit connection, and finally 10M means the switch is connected to a 10Mb device.
When the link LED's are flashing, data is being sent between devices. If the duplex LED is lit, it means that particular port is running full duplex; if it's dark then there's only a half duplex connection.
Those of you who move or send hardware around the world will be happy to hear that the SW8G is compatible with all power types, 100-240V @ 50-60 Hz. The SW8G is a bit on the noisy side though; if you plan to use the switch in a server/workstation environment you probably wouldn't notice it but if it's running at home you'll probably want to stick it under a desk.
Differences between a switch and a hub?
So what exactly is a network switch? The main point of switches is that they are not limited to a single internal bandwidth of 10, 100 or 1000Mbps (Megabits per second). Rather each port has it's own personal 10/100/1000Mbps pipeline, and when two ports communicate they form an exclusive circuit between themselves.
Therefore, if three or more devices are connected to the SW8G and they each send data, the bandwidth is not shared and network performance does not slow down.
Also, each device connected to the switch is allowed to communicate at its normal speed, since the circuit formed between two communicating devices on separate ports of the switch goes only as fast as the slowest device. In this way, a gigabit NIC in one computer can communicate properly with the 10Mbps NIC in another, at a speed of 10Mbps, but still talk to other gigabit NICs connected to the switch at 1000Mbps. Hubs do not form separate connections between ports, they simply blast all data received from one port out of all the other ports, so no speed adjustment is possible.
Switches are also known for their ability to negotiate packets of data so there are no collisions. The MSI SW8G acts like a traffic cop and directs the data/traffic to its appropriate port. Since the data has its own dedicated path, no other data can get in the way and slow things down by causing collisions as is the case in hubs.