MSI NX6600GT-VTD128 Geforce 6600GT AGP Videocard Review
---
The videocard sector is truly different from the rest of the computer world. When it comes to processors, motherboards, memory or hard drives, each technology moves in small evolutionary steps. Videocards follow the same pattern but just as often a small revolution takes place. For instance, videocards are shipping with bigger and bolder heatsinks that only a few years ago seemed unimaginable. Could you imagine a dual-slot cooler in the first days of the GeForce? Now, heatpipes, and dual slot coolers are commonplace. In fact some of the after market videocard coolers sold presently take up three PCI slots, and they are typically dead silent too.
With the last couple of GPU generations we've seen ATi and nVIDIA cut performance features out of their mainstream products in an attempt to make the higher end cards look better. That has happened with the Gefoce 6600GT, but the mainstream cards of today offer a much more value than the mainstream cards of yesterday ever did. It's all these little changes that make videocards so fascinating... and people wonder why so much pixel space is dedicated to videocards here at PCstats!? Cards based on the GeForce 6600GT GPU will definitely be a hot ticket item this quarter, so let's get a move on!
PCStats has the opportunity to look at MSI's new NX6600GT-VTD128 AGP videocard. This card is compatible with 8x/4x AGP motherboards only, and will not physically fit in AGP 2X or earlier slots. It comes equipped with 128MB of Samsung GDDR3 BGA memory on a 128-bit memory bus. At 900MHz, the MSI NX6600GT-VTD12's memory is clocked 50 Mhz slower than the Albatron Trinity 6600GT AGP card we reviewed recently, and a full 100Mhz slower than the Gigabyte GV-NX66T128D's memory. We'll see later if this has any impact on benchmark performance. For the multimedia enthusiasts out there, the NX6600GT-VTD128 is fully VIVO compatible.

MSI NX6600GT-VTD128



Includes:

Users Manual, Quick Installation Guide, Driver CD, MSI 3D Software, WinDVD, WinDVD Creator, Restore It!/Virtual Drive CD, Software Super Pack CD, 14 in 1 CD, URU CD, Price of Persia CD's, XIII CD's, DVI to analog converter, S-Video to S-Video cable, VIVO cable
MSI use custom copper plated aluminum heatsinks to cool the NV43 GPU and the PCI Express-to-AGP HSI bridge microchip. The fan that cools the GeForce 6600GT core is very quiet, and the small HSI bridge chip does not need active cooling.
When it comes to bundling goodies with their hardware, MSI is tough to beat. The NX6600GT-VTD128 includes an incredible 15 CD's worth of software, from system utilities like Restore It! and Virtual Drive to full version games like URU, Prince of Persia and XIII! Talking about extra hardware, MSI include everything you're likely to need such as a DVI-to-analog converter for dual monitors, an S-Video to S-Video cable. A VIVO cable is also thrown in with component outputs, S-video in/out and a composite input for video capture.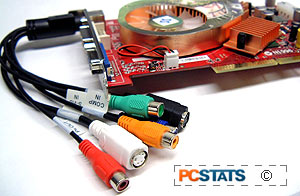 Additional Power Requirements
For a long time now, the AGP slot has been unable to fully meet the power demands of high performance videocards. The NX6600GT-VTD128 card requires an external power source through the molex power connector on the top right hand corner, so be sure to plug it in before starting up the PC.
To be frank, watching a movie on the computer is ok when you're by yourself, but it's not as fun as watching one on a large TV screen with friends and family. With the NX6600GT-VTD128 videocard, hooking up the PC to a regular TV or HDTV is possible thanks to the VIVO cable.
MSI includes a S-Video to S-Video cable but no extra component cables. I can understand the reasoning behind this, since the quality of the component cables makes a big difference in picture quality. By not including them, users can save a few dollars, and buy what you need later.