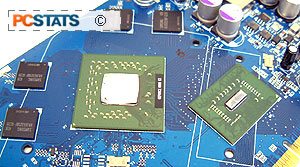 There's been a lot of focus lately on how ATi and nVIDIA's mainstream cards only have half the rendering pipelines of their high end counterparts. Let's remember something here though; both the NV43 and R410 have eight pixel rendering pipelines. This is the same number as on the Radeon 9800XT, and twice that of the GeForceFX 5950 Ultra, and those cards are still pretty fast.
The GeForce 6600GT (NV43) core is built on IBM's 0.11 micron manufacturing process, and contains a whopping 146 million transistors. nVIDIA has cut the vertex pipelines from the six found in the GeForce 6800 class cards to three in the GeForce 6600GT. To economize further, the memory controller has also been cut to 128bit. This means that at high resolutions with AA/AF enabled, the NV43 will not be able to handle the load as well as its more expensive sibling.
There are two models of the NV43 core, the GeForce 6600GT and plain GeForce 6600. The 'GT' that we're testing now has a core clock speed of 500 MHz, and memory running at 1 GHz. The vanilla Geforce 6600 version runs at 300 MHz core / 500 MHz memory. Both cards support all the latest DirectX 9.0C goodness as well as nVIDIA's SM (Shader Model) 3.0.
While the core on the Albatron Trinity GeForce 6600GT AGP is SLI compatible, the card is not since it uses an AGP interconnect. This shouldn't be much of a surprise though. No SLI connector is present on the card for obvious reasons.
Overclocking!
While still a relatively new company in the computer world, Albatron has built itself a strong reputation for overclocking. By default, the core on the Trinity GeForce 6600GT videocard is clocked at 505 MHz, while the memory runs along at 950 MHz; pretty nice numbers - but not fast enough for us!
Starting with the core, we tried to push this card to its limits. We easily passed 550, 560 and 570 MHz core speeds before running into some problems at 580 MHz. Anything above that speed would create artifacts while benchmarking CodeCreatures. We had to tone things down to 578 MHz to keep it stable, which is not a bad core overclock on... unique... stock cooling.
Albatron has equipped the card with four K4J55323QF-GC20 Samsung DDR3 BGA DRAM modules. Seeing that they have a 2ns rating, I was positive the memory could do 1 GHz so I immediately raised the frequency from its stock 950MHz mark, to that number. The Samsung memory ran at 1GHz just fine, so I continued to push on. In the end the Trinity 6600GT AGP reached 1073 MHz, definitely a nice speed bump over stock.
Happily, the Albatron Trinity GeForce 6600GT worked just fine with both core and memory overclocked to maximum speeds, and we were able to run through our whole set of benchmarks without slowing either down.

PCStats Test System Specs:
system 1
system 2
processor:

intel pentium 4 540

intel pentium 4 3.0c

clock speed:
16 x 200 mhz = 3.2 ghz
15 x 200 mhz = 3.0 ghz
motherboards:

gigabyte 8anxp-d, i925x

gigabyte 8knxp, i875p

videocard:

gigabyte gv-rx60x128v
gigabyte gv-nx57128d
msi pcx5750-td128
albatron trinity pc5900
asus extreme eax600xt
gigabyte gv-rx70p256v
gigabyte gv-nx66t128d

ati radeon 9800xt
ati radeon 9800 pro
ati radeon 9700 pro
asus radeon 9600xt
albatron geforce 6800gt
asus v9999 gamer edition
msi nx6600gt-vtd128
msi fx5950 ultra-td128
msi fx5900u-vtd256
msi fx5900xt-vtd128
aopen geforcefx 5900xt
albatron trinity geforce 6600gt

memory:

2x 256mb crucial ballistix ddr2

2x 256mb corsair twinx 3200ll

hard drive:
40gb wd special ed
40gb wd special ed
cdrom:
gigabyte dvd burner
msi x48 cd-rw/dvd-rom
powersupply:
vantec stealth 470w
vantec stealth 470w
software setup

windowsxp build 2600
intel inf 6.0.1012
catalyst 4.11
detonator 66.93

windowsxp build 2600
intel inf 6.0.1012
catalyst 4.11
detonator 66.93

benchmarks

3dmark2001se
3dmark05
codecreatures
aquamark
gun metal 2
x2 the threat
ut2003
doom3

aa test, af and aa+af test
3dmark2001se
x2 the threat
ut2003
the agp and pci-e systems are different, but the results are included for reference.