Albatron Trinity GeForce PC6600U Videocard Review
---
It appears as though videocard makers are falling into the same trap that once tripped up processor companies like AMD and Intel. As videocard cores have become more complex and draw increasingly more power, they are also generating more heat.
This isn't a very big problem, at least not one that a big heatsink and fan cannot solve. It's just that the methods videocard manufacturers are using pretty much fall in line with past Intel and AMD thermal steps.
Namely, more power produces more heat, which necessitates a noisy heatsink. Consumers in turn don't like noise, so manufacturers then adopt larger, heavier cooling systems. Consumers don't like to pay more for their videocards' fancy copper coolers, and heavier cooling systems can mean loose videocards after transport to and from LAN events. Videocards are thus just catching up with the silent PC phenomenon that CPU makers have actively been supporting.
What makes the Albatron Trinity GeForce PC6600U special is that it is one of the first commercially available, virtually silent videocards. This next generation 'stealth assassin' gives the consumer excellent performance without the noise. Nice.
Based on the GeForce 6600 GPU, the PCI-Express based, SLI-compatible, Albatron Trinity GeForce PC6600U has 128MB of memory as well as an impressive heatpipe GPU cooling system that is virtually dead silent. All this runs for about $160USD.

Albatron Trinity GeForce PC6600U



Includes:

Users Manual, Driver CD, WinDVD/WinDVD Creator CD, Five Game Demo CD, Arx Fatalis, S-Video/Component Out Breakout box
Albatron has slightly increased the core speed of the video processor on the PC6600U to differentiate it from its PC6600 card. While both sport the same Geforce 6600 GPU, the Trinity PC6600U has it clocked at 400MHz with 700Mhz memory speed, as opposed to 306MHz and 500MHz memory clock for the PC6600. Both cards use a 128-bit memory bus.
Albatron has never really included large software bundles, and true to form the Trinity GeForce PC6600U includes only WinDVD/WinDVD Creator, an old five-game demo CD and Arx Fatalis (released in 2002). Albatron also include a S-Video/composite/component output cable, which is great if you plan to attach your PC to the television. The bundle should have also included a DVI-to-analog converter for dual analog monitors, but does not.
The included multi-language manual covers all of Albatron's recent videocard products, so it is not exactly specific, but it does get the point across. It was nice to see a printed manual anyhow.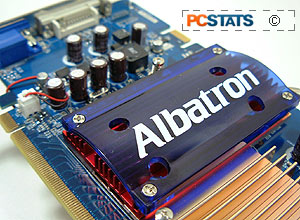 The heatpipe cooling system on the Albatron Trinity GeForce PC6600U is easily one of the most impressive stock videocard coolers. Sporting two heatpipes which bridge chunky aluminium heatsinks on the front and back of the card, the videocard has an impressive heft. A single almost silent fan helps disperse the heat transferred to the larger rear heatsink.
The heatsinks cover the memory chips on both sides of the videocard but do not actually make contact with them, so the GPU is effectively the only component being cooled. Interesting design choice here, though active memory cooling has not really been an essential component in recent videocards.
The Albatron 6600U GPU supports nVidia's new SLI technology, in which two identical videocards can be linked together on a supporting motherboard for massively boosted 3D performance. The SLI connector can be seen on the top of the card towards the front. No extra power is required for this card, so it has no additional power connectors.