MSI only got into the enthusiast game a couple of years ago, but since that time the company has certainly come a long way. The first thing we did with the K8N Neo4 Platinum/SLI was to set the CPU multiplier to 8x, and the memory to 166 MHz mode. This way neither component would affect the motherboard's maximum overclockable speed. Starting at 200 MHz we slowly raised the motherboard clock speed a few MHz at a time.
We easily passed the 214 MHz mark that the Gigabyte GA-K8NXP-SLI was limited to, but at 221 MHz we ran into a few problems. Raising the chipset voltage to 1.75V solved those issues, but at 232 MHz we again ran into stability issues and had to raise the chipset voltage to 1.85V. In the end, the fastest stable speed we were able to achieve was 238MHz. We think that heat might be an issue as the nForce4 MCP HSF was too hot to touch. Replacing that cooler would probably allow for higher overclocking.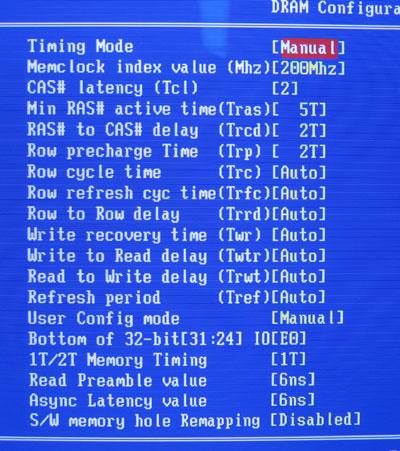 There are a whole host of memory options available, definitely more than we're used to. Tweakers will love playing around inside the K8N Neo4 Platinum/SLI BIOS!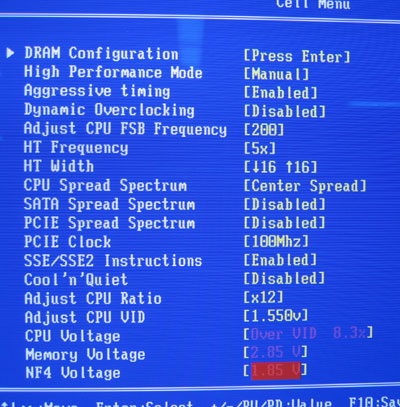 MSI allows for a multitude of system adjustments to be made, from changing HyperTransport speed and width to enabling and disabling dynamic overclocking to adjusting the motherboard clock speed between 200-400 MHz in 1 MHz increments. CPU multiplier adjustment is also possible; Athlon64's can access lower multipliers while Athlon64 FXs have total multiplier control. Maximum CPU voltage is 1.55V + 8.3%, memory voltage is 2.85V and chipset voltage can go as high as 1.85V.