MSI K8N Neo4 Platinum/SLI Motherboard Review
---
PCI Express is really starting to come into the limelight. It has successfully migrated from the Intel platform into an independent technology, sealing its fate as the next hottest thing after DDR-2 memory. Over the next twelve months we can only wait and see what kind of PCI Express devices will enter into the market, but at the moment there is no shortage of PCI Express videocards to choose from.
The MSI K8N Neo4 Platinum/SLI is actually the third revision of MSI's popular K8N Neo series, and it's now based on the brand new nVIDIA nForce4 SLI chipset. The motherboard supports Socket 939 AMD Athlon64 processors with HyperTransport running at a smooth 1 GHz. In terms of memory, the board supports up to 4GB of PC3200 non-ECC DDR RAM, and unlike Intel's new DDR-2 systems, you won't have to throw out those trusty sticks of DDR memory if you're upgrading from an older box.
There are two physical PCI-Express 16x slots on the motherboard as well as three standard 32-bit PCI slots. Under SLI, the two PCI Express videocard slots operate with 8 lanes each. The SLI jumper is included in the package. The K8N Neo4 motherboard also comes equipped with Silicon Image's new Sil3132 Serial ATA II/RAID controller, IEEE 1394, two Gigabit NICs and an onboard Creative Sound Blaster Live! 24-bit hardware soundcard! Yes that's right, the K8N Neo4 has a onboard Creative Soundblaster (CA0106-DAT) soundcard!

MSI K8N Neo4 Platinum/SLI Motherboard





Includes:

Driver CD, SoundBlaster Driver CD, Rounded Floppy Cable, Rounded IDE Cable, 2x Serial ATA Cables, One Molex Y Serial ATA splitter Cable, IEEE 1394 bracket, USB Bracket, SLI Bridge
Every nForce4-SLI based motherboard we've seen on the market has been a full size ATX board so those of you with smaller cases will have to get something new to house these boards. The K8N Neo4 Platinum/SLI has a 24 pin ATX main power connector, although regular 20 pin ATX power supply connectors will still work just fine. Just make sure it can meet the power demands of an Athlon64 and twin videocards, otherwise you'll have a lot of headaches down the road.
Instead of using an extruded aluminum heatsink to cool the MOSFETs, MSI has applied a rather spiffy nickel plated folded-fin heatsink with brazed aluminum fins to this motherboard's power circuitry. The MOSFETs resting below the heatsink are effectively cooled by the exhaust air from the processor fan; this cooling system works very well (and looks quite good too)!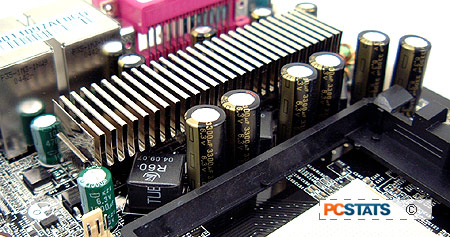 I really like where the K8N Neo4 Platinum/SLI has all its ports/headers/connectors situated on the motherboard; they're in their absolute best positions. The main ATX, floppy and IDE channels are in the ideal location just to the right of the DIMM slots.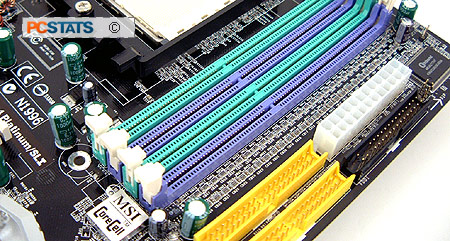 The USB, Serial ATA and IEEE 1394 connectors are also in a great location at the edge of the PCB, as is the ATX12V connector just above the CPU socket.