Gigabyte GA-K8NXP-SLI nForce4-SLI Motherboard Review
---
There's little doubt that PCI Express is the way of the future, but up until recently, adoption and acceptance of this new technology has been slow. There are many reasons for this and the main one was that videocard technology at the time PCI Express was introduced... just simply didn't need PCI Express. In fact, up until recently PCI Express didn't offer any performance advantage over existing legacy hardware.
In the last couple of months, things have started to change and the hype is building up again thanks to three small letters, S L I. No, 3dfx hasn't risen from the dead, this is a feature that's built into nVIDIA's midrange to high-end videocards that allows two identical cards to run together in a system simultaneously! Ahhh, think of the gaming possibilities...!
If you consider yourself a performance enthusiast and are contemplating purchasing a new system or motherboard in the near future, do yourself a favor and get something that's SLI compatible. Even if you don't plan on running SLI today, a compatible motherboard allows your computer to be a bit more future-proof by giving you the option of running SLI later.

Gigabyte GA-K8NXP-SLI



Includes:

Users Manual, Driver CD, Hardware Installation Guide, Four Serial ATA I cables, Four Serial ATA II cables, Four Molex Y Serial ATA Power Cables, Ultra/133 IDE Cables, Floppy Drive Cable, Serial ATA RAID manual, I/O Bracket, SLI Connector, 802.11g Wireless NIC, DPS Power Bracket
Today, PCStats will be looking at Gigabyte's next generation AMD Athlon64 motherboard, the GA-K8NXP-SLI. Based on the popular nVidia nForce4-SLI chipset, this motherboard supports socket 939 Athlon64 and AthlonFX processors, as well as up to 4GB of PC3200 DDR RAM in a dual channel configuration. As an SLI-compatible board, it sports two PCI Express x16 slots for dual videocards.
Gigabyte motherboards are typically loaded with features, and the GA-K8NXP-SLI is especially packed with extras. The board features an onboard four port SATA/RAID Silicon Image controller, two Gigabit NICs, one wireless 802.11g PCI network card, a 7.1-channel audio controller, three IEEE 1394b ports, Gigabyte's DPS-2 power system, and of course dual BIOS'.
The GA-K8NXP-SLI also has two PCIe x1 slots as well as two standard PCI slots. Finally if that weren't enough already, the nForce4-SLI MCP supports the new Serial ATA II standard for up to 3Gb/s of HDD goodness on four channels. A pretty well rounded motherboard I'd say, wouldn't you?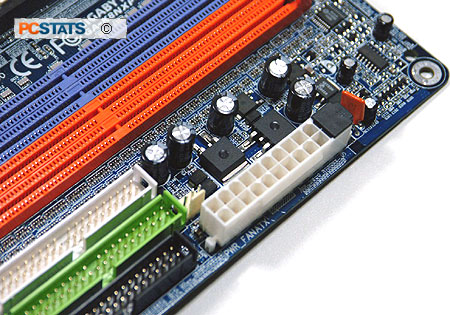 The integrated hardware list that Gigabyte includes is definitely impressive but we're also pleased to see that they throw in excellent software package as well! Easily overlooked is the copy of Norton Internet Security 2005 that's included on the driver CD.
Norton Internet Security 2005 will certainly help safeguard users from potential threats from the internet. Now if Gigabyte could only make the subscription for NIS 2005 to Symantec last for an entire year instead of 90 days...