Intel's 64-bit Technology: Come Late, Stay Quiet.
---
As you may know, Intel recently brought legacy compatible 64-bit technology to its Xeon and Pentium 4 lines of processors. This move was inevitable when you take into account the huge success that AMD has had with its Opteron line of 32-bit/64-bit chips as compared to Intel's Itanium ('I-tanic') Server processors. The Itanium of course, is not compatible with software designed for standard x86-based computers, while the Opteron is. Intel needed to close this gap, and they have. The question is, why is Intel being so quiet about it?
Compared to AMD's triumphant buildup and release of its 64-bit server and Athlon64 desktop processors, Intel's recent incorporation of 64-bit x86-compatible instructions into its chips could be classified as pretty much invisible. If a thousand-pound elephant could tiptoe, that would be what Intel did in bringing 64-bit to their products. In this article we're going to take a look at why the processor giant has taken this approach, as well as dig a little deeper into how Intel's new 64-bit capable products compare to familiar AMD equivalents.
Intel Extended Memory 64 Technology: New instructions for old chips
Extended Memory 64 Technology (EM64T) is outwardly practically identical to AMD's 'AMD64' set of 64-bit extensions. And when we say "practically identical", we mean it. For example, not only do EM64T-enabled chips operate in one of three modes, each of which is functionally the same as the three modes that AMD's 64-bit offerings use, they also share two of the same names for these modes with AMD's set. Let's take a closer look:
Intel's EM64T provides for two major operating modes, 'legacy' IA-32 (Intel Architecture 32) mode which is functionally identical to non-64bit Pentium 4 and Xeon CPUs, and IA-32e extended mode. IA-32e includes two submodes which are named identically to their AMD counterparts: 'compatibility mode' and '64-bit mode'.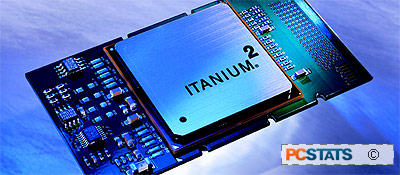 Intel's first 64-bit processor, the Itanium. Not a hot commodity these days.
Compatibility mode allows a 64-bit operating system to run with legacy 32-bit applications, while 64-bit mode allows only a 64-bit operating system and application code, but enables 8 extra general purpose registers exclusively for use in this mode.
If you've seen PCstats article on AMD's 64-bit technology, you'll know that what I've just described so far is practically word-for-word identical to the Opteron/Athlon64 AMD64 64-bit extension. Funny that.
The major difference between AMD and Intel's 64-bit transitions is that Intel has not created a new processor design to go with it. Instead, EM64T is essentially a bolt-on 64-bit supercharger. In direct contrast, AMD designed the 'K8' Athlon64 and Opteron processors to incorporate the double whammy of the Hypertransport bus and the on-die memory controller. The AMD64 64-bit extensions were just the icing on the cake. In case you are not aware of this fact, it's the Athlon 64's architectural improvements over previous processors that have accounted for its performance advantage, not its generally as yet unrealized 64-bit abilities.
In a nutshell Intel's EM64T provides exactly the same capabilities for 64-bit operation to the Pentium 4 line that AMD64 gave to the Athlon64. As of yet, no software has emerged to use this additional horsepower (in the Windows market anyhow), and the Athlon64 is still a clear leader in gaming benchmarks. In all other respects though, this levels the playing field.
According to Intel, AMD64 and EM64T should be "broadly compatible" so we assume that creating code that will coexist on both platforms will not be too much of an issue for software makers. We're sure that Windows XP 64 will like both chips just fine when it hits... the Windows XP-64 operation system is expected to launch mid-May this year, so things could change quickly.