Gigabyte GA-K8N Ultra-SLI Motherboard Review
---
When SLI was first released there was a lot of hype surrounding it. After all who wouldn't want the rendering power of two top of the line videocards running together? After the official release, it took two months for nVIDIA to release beta drivers which allow users to create their own SLI game profiles. Now gamers and enthusiasts can start to reap the full rewards of SLI, and get their money's worth in frame rates. This also gives nVIDIA a leg up on ATi, which is supposed to be introducing SLI compatible videocards of its own in Q2 of this year.
nVidia's timing couldn't be better, as the patience of the enthusiast community was starting to wear thin. Many were questioning whether they should adopt the more expensive SLI option, or stick to one powerful graphics card. Of course, before one can start gaming with an SLI set up, it is important to have the right SLI-compatible motherboard.
In this review PCStats is testing out one such option, the Gigabyte GA-K8N Ultra-SLI motherboard. This board is targeted towards the mainstream market (as mainstream as SLI gets, anyhow), and supports all Socket 939 AMD Athlon64/FX processors. With room for up to 4GB of unbuffered DDR RAM, its dual PCIe x16 slots handle the graphical duties with a full 16 lanes of PCIe with a single videocard and two sets of eight when in SLI mode with compatible nVidia-based cards. The SLI bridge connector comes included (GC-SLI).

Gigabyte GA-K8N Ultra-SLI



Includes:

Users Manual, Driver CD, Hardware Installation Guide, Four Serial ATA I cables, Four Serial ATA II cables, Four Molex Y Serial ATA Power Cables, Ultra/133 IDE Cables, Floppy Drive Cable, Serial ATA RAID manual, I/O Bracket, SLI Connector
In terms of features, the GA-K8N Ultra-SLI includes an additional four channel Serial ATA/RAID controller, two Gigabit NICs (neither of which run through the PCI bus), IEEE 1394b, 7.1-channel audio, SPDIF in/out, and of course Gigabyte's essential dual BIOS feature.
Expansion is handled by a pair of PCIe x1 slots and two standard PCI slots. Up to eight SATA devices (four SATA II and four standard SATA) can be attached to the board, along with four IDE drives.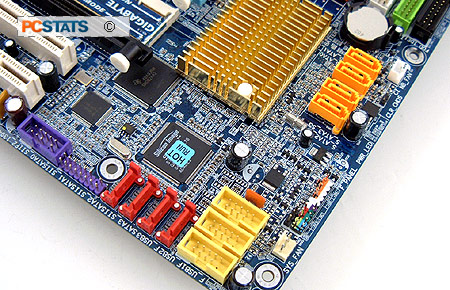 If you think the GA-K8N Ultra-SLI looks almost identical to the GA-K8NXP-SLI, you're right. Both motherboards use the same PCB and at the top of the GA-K8N Ultra-SLI you can still see the silk screen for the DPS power system. Instead of going with an active cooling solution on the NF4 SLI chipset, Gigabyte use a large passive videocard-like heatsink.