Epox EP-9NPA+ Ultra Socket 939 Motherboard Review
---
As computer components continue to reach new speeds, their price tags have also reached higher thresholds. Enthusiast quality hardware certainly commands a price premium, so it's always important to shop around before deciding on what to get. This is where reviews like PCstats look at the Epox EP-9NPA+ socket 939 Athlon 64 motherboard come in. There are dozens of similar motherboards on the market to choose from, all with virtually identical features, so what if anything makes the Epox EP-9NPA+ Ultra special?
This is what we aim to find out, as we mull over the features and performance of this latest Epox motherboard, complete with Port 80 card and PCI Express, although SLI is not supported. PCI Express is definitely the way to go with AMD Athlon64 systems, and a single high end videocard has more than enough power for today's games as do regular Athlon64's and Pentium 4's processors.
The Epox EP-9NPA+ Ultra offers users a very flexible nForce 4/PCI Express platform, and has some useful integrated peripherals like a 8-channel audio, 10 USB2.0 ports, IEEE 1394a, and Gigabit LAN. It's not the most well equipped motherboard we've ever dealt with, but for mainstream users I think you could say it fills out all the necessary points well.

Epox EP-9NPA+ Ultra



Includes:

User manual, IO shield, Driver CD, Round IDE & FDD cables, S-ATA II data and power cable, Game + COM Bracket.
This motherboard must have been literally hot off the presses as the unit we received from Epox for review came with a driver CD and nothing else. The retail version will include the usual fare of cables, brackets, manual's and software.
With most manufacturers having adopted a range of bright colours for the motherboard PCB, green has become an almost exclusively Epox colour. Blue is associated with Albatron/Gigabyte, red for MSI, tan brown for Asus, while Epox has made "retro" green its own. ;-)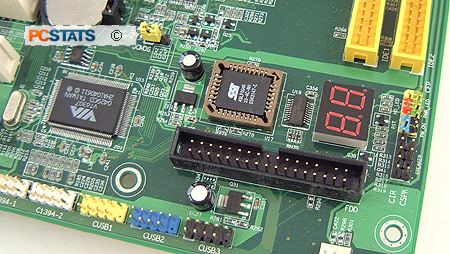 The general component layout on the EP-9NPA+ Ultra is good, with most everything in an easily accessible location. At the bottom right hand corner of the motherboard is the Port 80 diagnostics card which flashes two digit error codes to identify system status.