Powercolor Theatre 550 Pro TV Tuner Review
---
The modern PC has taken on several roles that its ancestors could only dream about. With today's compact motherboards and small form factor cases, the desktop computer can just as easily be found in your stereo rack as it can be gathering dust bunnies under a desk in your office.
This is a logical step forward, since newer computers have powerful music and video handling abilities when equipped with the right hardware. Selecting that correct hardware can be a chore though. Many different companies have produced their own takes on video capture and TV-tuning hardware for the PC, with results ranging from the excellent to the unwatchable.
In this review, PCstats will be testing out the Powercolor Theatre 550 Pro TV tuner, which is based on ATI's Theatre 550 Pro digital audio/video processing chipset. As you might or might not know, this particular chipset is currently the hottest thing in TV-tunerland, due to its support for a number of uncommon features, including 2D and 3D comb filtering. As you might expect, the ATI Theatre 550 chip is also found in ATI's latest Multimedia products too.

Powercolor Theatre 550 Pro



Includes:

Instructions, driver CD, remote, IrdA receiver, antenna, AAA batteries, TV-breakout box, Cyberlink's PowerDirector SE+, MediaShow SE, PowerDVD, PowerProducer DVD and Power2Go applications
Powercolor has amassed a good reputation for building affordable, no-frills computer video products. System requirements for this card are pretty steep for a TV-tuner. A minimum of a Pentium 4 or P4 Celeron, Athlon or Sempron processor is required, along with 128MB of memory. The NTSC model was tested here, PAL versions are also available.
The ATI Theatre 550 Pro Chip

ATI's newest TV-tuning and video capture chip boasts several interesting features. The 12-bit encoding engine boasts 2D 5-line comb filtering and a 3D comb filter. The 3D comb filter reduces artifacting and colour bleeding in the final image. A noise-reduction engine is also built into the chip to reduce visual static from the original video signal. MPEG 2 video and audio encoding is integrated into the chip, taking the load off your system's processor.
As we've just said, the 550 Pro chip is also a digital audio processor, and it receives the audio stream at the same time as the video stream. The audio is digitized with the 12-bit analog to digital converter before being sent for MPEG encoding. This is definitely a new wrinkle, as previous ATI TV-tuning chips did not process audio at all, and it was done by other components. Hopefully this ability will enable the 550 Pro to better synchronize sound and video components.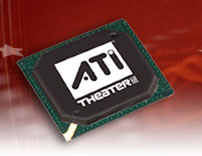 The ATI Theatre 550 Pro chip supports both standard PCI and PCIe x1 form factors, and cards based on this chip might be one of the first non-3D card consumer peripherals we see for the new PCI Express bus. The model we tested here is for PCI slots only. The Theatre 550 Pro chipset is comprised of the 550 Pro chip combined with the ATI T1 TV and FM radio tuner.
Interestingly, ATI claims that "frames will never be dropped" during video representation. We're quite sure that this explains the oddly high system requirements of the Powercolor Theatre 550 Pro card and the Theatre 550 Pro chipset as a whole... Making sure that the 550 Pro is running in a system with enough horsepower to keep up with it is the only way that ATI could afford to make a statement like this.
Of course, the ATI instruction manual that came with the Powercolor Theatre 550 Pro still lists 'frames are being dropped' as a troubleshooting section in the manual, so the technology seems to fall short of miraculous. We'll see how it actually fared later in the review.