Now that you have your old motherboard removed, clear yourself a workspace next to the case, and be sure to touch the side of the power supply again to ground yourself.
Remove the new motherboard from its packaging and place it on top of the silver-black anti-static bag it came in. It's time to install the processor and memory, since this is much easier to do while the board is out of the case.
To install the memory, hold the RAM module next to the slot so that the indentation(s) on the chip line up with the bump(s) in the slot. Which slot you need to install the memory in, will depend on the motherboard, so please have a look in the manual. Newer dual channel DDR motherboards require identical pairs of memory to be installed in specific slots in order to work best.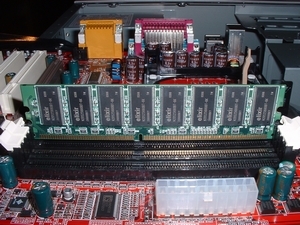 Once you are certain you have it the right way round, open the levers on either side of the RAM slot and push the RAM chip straight down into the slot until both levers snap closed on either side of the chip. This will require some force. If it does not seem to be going in with a moderate amount of force, remove the stick of memory and re-insert it, making sure that it is exactly lined up with the slot.
To install the processor, release the lever on the CPU socket and pull it up. The CPU is keyed to only fit into the socket one way, and should just drop in with no force required. Depending on the processor, there may be an arrow on the processor and the slot indicating the correct orientation. Otherwise, compare the pins on the processor to the holes on the socket to find the correct fit.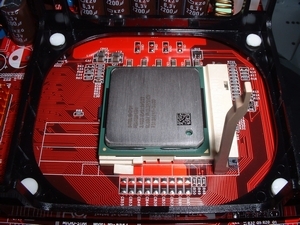 Once the processor is snugly in place with no pins showing, close the lever and lock it in place.
Now to attach the heatsink and fan. Methods for this vary depending on the make of the processor and heatsink, so it's best to consult the documentation that came with your processor, or heatsink. Be careful, especially if you have a recent AMD processor, as putting the heatsink on incorrectly may damage the processor permanently. As long as you ensure that the heatsink is the right way around, has a small amount of thermal paste (either pre-installed, or applied now) and don't wiggle it about on top of the CPU while you are attaching it, you'll be fine.