Beginners Guides: Upgrading A Motherboard Without Reinstalling
---
Swapping out a that old motherboard for new one, and potentially radically different hardware is often a quick road to the Blue Screen of Death. Of course, we have a guide to getting this done, without reinstalling your entire PC. - Version 1.0.0
A computer's motherboard, the backplane of circuits, ports and slots that allows the processor to communicate with all the other hardware, is arguably the most important component in an entire PC. Besides linking hardware together, it also acts as the focal point for the operating system, allowing it access to all the hardware components.
Sadly, with the constant pace of change in the processor and chipset markets, motherboards become outdated very quickly when it comes to upgrade options. This means that any major new computer upgrade tends to require a new motherboard with it, and this brings a whole new set of complications.
You can upgrade a processor or add a new memory module without causing so much as a blip from Windows XP, but a new motherboard can and will cause XP to stop booting altogether. Many have tried, and many have been greeted with the cold gasp of the Blue Screen of Death for their efforts. Fortunately, the procedure for correctly installing a new motherboard is rather easy and straightforward, and more fortunately, we're here to talk you through it.
PCstats never-ending quest to save you from computer store labor charges continues... after all, this is the exact same procedure a Service Center will charge you $80/hr to do.
The easy part: Physically removing and replacing the old motherboard
As stated above, the motherboard is the large circuit board upon which the processor, memory and expansion cards are mounted. Despite their complexity, motherboards are rather easy to remove from the inside of a case since they are held in place by just a half-dozen Phillips-head screws.
Step 1: Removing the old motherboard
First let's look at how to remove your old motherboard and install the new one. This is a strictly physical operation, no software skills required. You'll need a Phillips-head screwdriver (preferably magnetized), a small flat-head screwdriver and some free desk space.
Power off your system and remove the side panel so that you can look into the body of the case and see your motherboard. Unplug all wires from the back of the computer except for the power cord. By leaving it in, with the power supply turned off, it acts as a ground.
Place the case on its side on the desk. You may wish to touch the side of the power supply before continuing, to ground any static charge you may have. Static electricity can seriously hurt computer components, and it does not take a lot.
Unplug all the internal wires connecting the case and drives to the motherboard. Start with the 20-pin ATX power cable pictured below.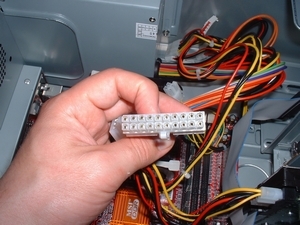 Once all wires and other obstructions have been unplugged and moved out of the way, Remove any PCI and AGP expansion cards which are installed. This is done by unscrewing the brackets, and then carefully pulling the card vertically out of the socket.