RSS feeds also provide a great alternative to the most common form of web content syndication, e-mail. With the massive amount of spam finding its way into the average mailbox, emailed updates of web site content are a lot less attractive (and effective) than they used to be. For web site administrators, RSS feeds provide an easy way to advertise new content on their sites without the headaches and hit-or-miss nature of mass email newsletters.
How do RSS Feeds Work?
RSS is a protocol that uses XML (eXtended Markup Language), and RSS feeds take the form of a single XML file which can be hosted and automatically updated by the webmaster and downloaded and read by RSS feed reading software.
At its simplest, this file contains a main URL and a set of items representing links published from the website in question. Each of these items consists of a title, a link to that content on the site and a brief description.
An RSS reader/aggregator links to the RSS file on the site and downloads it, rendering each of the items as a separate headline and synopsis of that article or content, complete with a link. Most RSS readers will continually scan each RSS feed they have linked to for updates, then inform the user when new content is found.
For home users, receiving RSS feeds is as simple as downloading an RSS reader or an extension to their web browser of choice and then finding which of their favourite sites offer RSS feeds. Let's take a look at the process:
Using an RSS Reader
We're going to take a look at a couple of different ways to bring RSS feeds to your computer desktop. First we're going to try a stand-alone application in the form of FeedReader . This open source RSS aggregation program uses a simple, uncluttered interface and is blessedly free of the sponsored links that finance several other freeware RSS readers.

Once you have downloaded and installed the software you are presented with the FeedReader main screen. To the left hand side are the current links you have to RSS feeds. Selecting one of these, like the default Engadget feed, brings up all recent items from that feed in the upper left window. Items in bold text have yet to be read, just as in Outlook Express.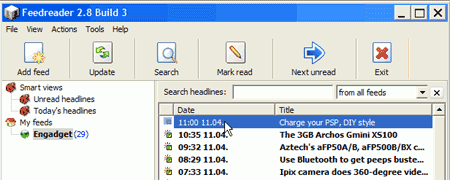 Selecting one of these items marks it as having been read and brings up a small amount of descriptive text and possibly a picture in the bottom right window. From here, you can follow the link to read the whole item.