Abstract: On the sound front, the Gigabyte GO-W1616A is average; it doesn't produce much sound even when reading DVDs at full speed. Vibration is also at a minimum.


77% Rating:

Home > Reviews > Optical Drives > Gigabyte GO-W1616A
Gigabyte GO-W1616A DVD Burner Review
---
When it comes to recordable optical storage, the burners generally hit the retail market slightly before the actual media becomes readily available. It makes sense for drive and disc manufacturers to time their releases; after all what good is either by itself?
In the case of dual-layer recordable DVD media though, disc manufacturers have been very slow. Perhaps it's due to pressure from Hollywood (conspiracy theories anyone?), but finding recordable dual-layer (8.4GB) DVD media is still difficult. On the upside, when media is found, the prices have at least dropped from $14 per disc to around $6-7 CDN per disc. Hopefully we'll see prices drop even further.
With all the DVD writers flooding into the market, choosing the right one can be a confusing situation. Our advice is this, to make sure your burner is future-proof you should really only consider drives which are are dual-layer compatible. DVD recorders that are not, will very shortly be obsolete. With that in mind, the Gigabyte GO-W1616A drive we are looking at today has some impressive specifications, in addition to dual-layer DVD recording, and it comes with a few goodies such as Nero software suite and PowerDVD 5.

Gigabyte GO-W1616A

Includes:

Quick Installation Guide, Software CDs, Analog Audio Cable, mounting screws, black drive face, eject pin.
The Gigabyte GO-W1616A supports a maximum writing speed of 16x for both single layer DVD+\-R media, 4x for DVD+R DL media, 8x for DVD+RW and 6x for DVD-RW. The GO-W1616A supports 48x burning for traditional CD-R and 24x for CD-RW. In terms of reading, the drive can read single layer DVD+\-R media at 16x, DVD+R DL at 4x, DVD+\-RW at 8x and standard DVD media at 16x speeds. With CDs, the drive can read CD/CD-R media t 48x and CD-RW at 32x speeds.
One thing i'm glad to see is that Gigabyte used straight white for its front bezel instead of beige. I don't know about you, but the last thing I want is for my new drive to look like it's ten years old. In consideration of the large variety of cases now on the market, Gigabyte also include a black bezel which will ensure it blends in with black or silver computer cases. Overall, the GO-W1616A drive is pretty plain looking, though Gigabyte has tried to spice things up by adding a lot of graphics.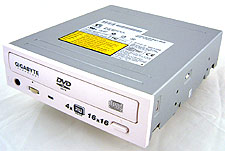 I was a bit surprised that the drive includes a headphone jack and volume control on the front; does anyone ever use these anymore? The ejector pin that comes with the drive helps to make switching out the face plates an easy task - as the drive tray needs to be opened first, before the different colour face plates can be switched out.
Measuring just 17cm in length, the GO-W1616A is stubby enough to work well in cramped or SFF cases. The drive can also be mounted vertically thanks to the tray clips which keep the disc nice and secure.
The rear of the drive looks, well, like an optical drive. We have the two-pin digital output connector, four pin analog audio connector, Master/Slave/Cable Select jumpers, IDE and molex power connections. The quick installation guide walks you through the steps to connect up the drive as well.

On the sound front, the Gigabyte GO-W1616A is average; it doesn't produce much sound even when reading DVDs at full speed. Vibration is also at a minimum.
The GO-W1616A drive supports all the normal writing modes such as Packet writing, TAO (Track at Once), DAO (Disc at Once) as well as DAO/96, SAO (Session at Once), Multi-session, Variable Packet Writing, Fixed packet writing and Multi-track reservation. Basically whatever and however way you want to burn, the Gigabyte GO-W1616A supports it.