Soltek EQ3501-300PW QBiC Mania SFF PC Review
---
What originally started out as a fad for cute little semi-portable computers has slowly grown into a major market after just a couple of years. While Shuttle initially had the head start, being the first to come to the market with a SFF (Small Form Factor) PC, pretty much every motherboard manufacturer now has its own SFF products.
Current SFF PCs come loaded with the same high-grade hardware as its full-size cousins in a package half the size. Of course, there are tradeoffs; expansion room is always limited, and heat-buildup can always be a problem. Overall though, cutting edge SFF PCs give us a lot of performance in a small package.
The Soltek's EQ3501-300PW QBiC Mania SFF PC is a flashy 'hot-rod' of good looks. The QBiC can be used in a variety of situations and unlike first-generation SFF PCs, is a truly viable desktop replacement. The EQ3501-300PW QBiC Mania is built around an Intel 915G motherboard which supports 800 MHz Pentium or 533 MHz Celeron D Socket 775 processors. There are only two DIMM slots and the QBiC supports a maximum of 2GB of non-ECC unbuffered PC3200 DDR RAM, but that should be enough for most situations. The QBiC Mania comes equipped with onboard video courtesy of Intel's GMA 900, and also features an open PCI Express x16 slot is available for gaming purposes.

Soltek EQ3501-300PW QBiC Mania SFF PC



Includes:

Users Manual, Quick Installation Guide, Motherboard QIG, two Serial ATA cables, Molex to Serial ATA power cable, two IDE cables, Floppy drive cable, Power cord, Utilities CD and carry bag. No heatsink or processor are included.
Considering the lack of real estate on the motherboard, it is quite admirable that the QBic includes IEEE 1394a Fireware, a 7.1-channel audio controller, Gigabit LAN and a wireless 802.11g network adapter (the antenna screws into a jack at the rear). Also available is one 32-bit PCI slot which can be used for anything you'd like. Be warned though, devices longer than ~20cm might have problems fitting into the case, a problem common with every SFF PC on the market.
802.11 a/b/g = Buyer confusion
---
802.11b released in 1999 (dubbed Wi-Fi for wireless fidelity), operates between 2.4 GHz and 2.4835 GHz and has a maximum bandwidth of 11Mbps. Range for 802.11b is around 15-45 meters depending whether you are inside or outdoors.

In 2001, two competing wireless standards were released, 802.11a and g. Both standards were capable of moving data at a brisk 54Mbps but 802.11a operated at 5 GHz and was not compatible with older 802.11b hardware. Also, 802.11a was not given a power upgrade and range decreased to around 10-30 meters. 802.11a does not have the RF interference problems that 802.11b/g networks have to deal with.

802.11g operates at 2.4 GHz just like 802.11b and thus the two standards are compatible with each other (at the slowest setting). Range has also stayed the same at 15-45 meters but 802.11b/g wireless networks have to deal with congestion on the 2.4 GHz frequency. Cordless phones and microwaves (just to name two) can interfere with a 2.4 GHz wireless signal.

One thing I've noticed about SFF PCs is that they pretty much all look like miniature computers. In general they're easily identified as being computers and that might be hampering sales outside the traditional PC market. We're pleased to see that Soltek has taken it upon themselves to start a new trend, SFF PCs that don't look like anybody's idea of a computer.

At first glance, the Soltek EQ3501-300PW QBiC Mania is definitely eye catching. To me it has a retro 50's style hot-rod look. Whether you'll like it or not is another question, but Soltek should definitely be applauded for trying something different. Since the EQ3501-300PW QBiC Mania doesn't look like a PC, it can be placed where a conventional PC or even SFF PC would look odd... like next to a toaster.

You'll be glad to know that during testing the Soltek EQ3501-300PW QBiC Mania was one quiet machine, and we could barely hear it over the ambient office sounds.

Last but not least, Soltek include a handy knapsack with the QBiC system. There's quite a bit of space inside and the bag will hold all your LAN party gear just fine as well as the PC.

Wireless Networking

The integrated USB2.0-based 801.11g wireless adapter must be a brand new option with the EQ3501-300PW QBiC Mania, since it's not even listed in the system specs on Soltek's website. The Soltek SL-02LAN-WUG uses the ZyDAS ZD1211 chip and the little NIC is built in UMC's fabs on 0.18 micron manufacturing technology.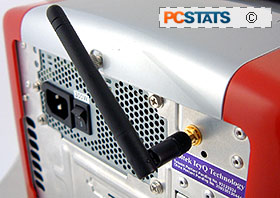 The ZD1211 chip uses BGA packaging, runs through the USB 2.0 bus and according to ZyDAS, it is 802.11 a/b/g compatible! That means the Soltek EQ3501-300PW QBiC Mania is compatible with any wireless network you can throw at the little machine, right out of the box.
The ZD1211 supports WEP64, WEP128 and WEP256 encryption, but not the more advanced WPA standard. Hopefully a driver/firmware update will add that feature in the future as it's a lot more secure than the various forms of WEP.
Soltek includes a standard dipole antenna with the QBiC, although you can install a high gain antenna separately if you have one. While we didn't set up a wireless network to test the onboard NIC, we could detect several wireless networks within our area, many with full signals.