As I sit here pouring over the contents of Samsung's newest MP3 player, the 1GB Yepp YP-MT6Z, I have to wonder if the world really needs another MP3 player? The Yepp YP-MT6Z boasts a huge amount of flash memory and its glossy white finish is indeed classy, but competing against the Apple iPod and Suffle is a difficult situation to pull off, even for a company as large as Samsung. On the bright side, the fierce competition in the MP3 player market has brought forth lower prices and long lists of juicy features...
The Yepp YP-MT6Z's retails for around $230CDN ($180USD), a remarkably affordable price compared to just a year or two ago, given its 1GB of internal flash memory. Furthermore, in a rare move of consumer friendly design, the Yepp YP-MT6Z is powered by a single AA battery that will last for upwards of 42 hours (straight playback).
Long battery life and inexpensive AA batteries are probably one of the greatest attributes of this MP3 player; heck a AA battery is even included!
About the size of a pack of Wrigley's gum, the Samsung Yepp YP-MT6Z incorporates a digital FM Tuner with 20 pre-sets, inline MP3 encoding, a voice recorder and eight EQ pre-sets. It plays MP3, WMA, ASF, Secure WMA and Ogg Vorbis music files. Supported MP3 bit rates are 8 kbps - 320 kbps, and 48 kbps - 192 kbps for WMA files.

Samsung YP-MT6Z MP3 Player

Includes:

Printed manual, driver CD, headphones, USB cable, direct-connect USB adaptor, mini-headphone line cable, neck strap, carry case, warranty card, and AA battery to get you started.


SPECIFICATIONS


Memory: 1GB
Playback Time: 42hrs
Battery: (1) AA
LCD Screen: 4-line, backlit
MP3 Encoding Rate: 32-128kbps
Supported Files: MP3, WMA, ASF, OGG Vorbis
Radio Tuner: FM
Microphone: Yes
Connection: USB2.0
Dimensions: 25x61x24mm
The YP-MT6Z's 4-line LCD screen (23x12mm) is backlit with a white LED, and displays the full ID3 tag information during playback so song information is always at hand. An intuitive joystick makes scanning through playlists remarkably easy, and is backlit by a blue LED for effect. Acoustic treatments like SRS WOW help ensure good 3D sound through the ear bud headphones that come with the player.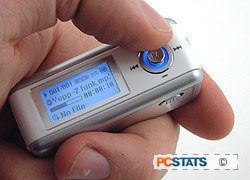 Best of all, the Yepp YP-MT6Z connects to the PC via a standard USB2.0 port, showing up as removeable hard drive in Windows so users can simply drag-and-drop music files onto it. It will also act as a USB hard drive in a pinch, although the internal firmware (upgradeable) initially takes up about 8MB of space for itself.
The 1GB of internal memory is fixed, and not upgradeable.
Along with the YP-MT6Z MP3 player comes a driver CD, stereo headphones, USB cable, clear plastic case, direct-connect USB adaptor, mini-headphone line cable (for MP3 encoding off another source), instructions, neck strap, warranty card and an AA battery. Most of this included gear is self explanatory, but a few accessories are worth focusing on.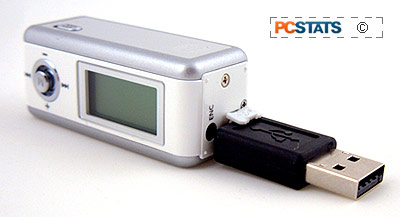 The 'direct connect USB adaptor' looks like a USB plug with a tiny metal connector on the other end. The adaptor plugs into the base of the YP-MT6Z, quickly allowing it to plug into a full-size USB2.0 port. While the YP-MT6Z is connected via the USB port, it is powered entirely by the USB connection too.
No software is required to move files onto or off of the device. In testing on a WindowsXP test system, the YP-MT6Z quickly configured itself and showed up in Windows Explorer as any USB removeable disk might. Transferring music files to the YP-MT6Z is as straightforward as copying them from one drive to another.
The player ships with a copy of 'Samsung Music Studio,' which can be used to create Album Lists, or rip CD's to MP3/WMA. Additionally, the YP-MT6Z can encode FM Radio to MP3 files on the fly.
This is done by pressing the record button which will start the 'FM ENC' process at up to 128kbps, 44kHz when listening to the radio.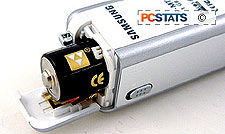 This is a cool feature that will come in handy, but if the battery is not powerful enough the encoding will stop automatically.
The MP3 encoding feature also works if the YP-MT6Z is connected to an adjacent device like someone else's CD player, or iPod, with the supplied mini-headphone cable.
Equipped with a USB2.0 connection, the Samsung YP-MT6Z takes about 5.5 minutes to download a full ~1GB worth of music, and approximately 8 minutes to totally fill up its onboard memory with fresh tracks.