Our black and white image quality tests were accomplished with PDF versions of the following two images printed at 600dpi. Text quality was excellent, with crisp text perfectly legible down to 6-pt type. The 4pt. type suffered from gaps in some of the letters, but was still completely readable.
The gradient line and fill test image reproduced well overall, but with noticeable vertical banding in the gradient tests.Photo printouts showed acceptable detail, but with the same vertical banding still noticeably present, making the SF-565P less than acceptable for grey scale graphics work.
Print Speed Testing
To test pure text print speed, we ran a 49-page text-only word document (with about 5% coverage) through the printer at 600dpi.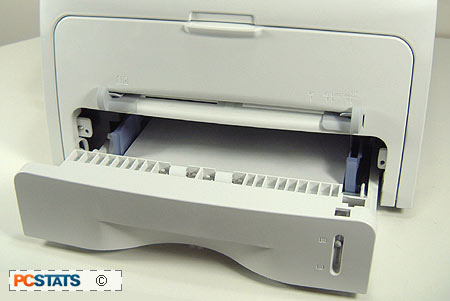 The Samsung SF-565P has a typical (for SOHO laser printers) warm-up time of about 30 seconds from sleep mode. In our printer speed test, it took 27 seconds from sending the print job until the first printed sheet hit the output tray.

Our 49-page test document (at about 5% coverage per page) took 3 minutes and eight seconds to complete, not including the warm up time. This works out to just less than 16ppm, 1ppm below the printer's stated performance level with letter sized paper. Not bad.

Cost of Operation

The Samsung SF565-P's toner cartridges cost about $75 US and yield 3000 sheets at 5% coverage. Taken at face value, this works out to about 2.5 cents US per page (3.1 cents CAN). This makes the SF-565P a tad on the expensive side for a business laser printer, but considerably cheaper to operate overall than the many inkjet-based MFPs on the market.

Final Thoughts on the Samsung SF-565P

In our opinion, Samsung has gone in the right direction with this no-nonsense business machine. Other manufacturers have made a pretense of adding photo-quality scanning and colour printing, without really being able to offer quality that compares to standalone devices. Samsung has taken the opposite approach in building a MFP dedicated to the most common and necessary office tasks, printing, copying and scanning text and simple graphic documents. While the SF-565P cannot do colour and struggles to print or scan photographs, it excels in quickly scanning printing and doing optical character recognition on text documents. The 20-sheet automatic document feed speeds up the process even further.

At about $275US (CAN $345), the Samsung SF-565P is priced right for an office workhorse. It can serve as the document hub for a small office or ease the job of a harried secretary in a large one. It's a specialized machine, but its specialty is essential to the smooth running of any workplace.

Find out about this and many other reviews by joining the Weekly PCstats.com Newsletter today! Catch all of PCstats latest hardware reviews right here.