There are a couple of ways to go about overclocking an nVidia-based videocard. The most basic is to use the 'Coolbits' registry tweak built into nVidia's video drivers. Essentially, the Coolbits tweak involves adding a single value to the Windows registry which then enables core and memory overclocking within the display control panel.
Setting up Coolbits
To enable the Coolbits tweak, the Windows XP registry needs to be edited. In case editing the registry sounds intimidating, see our guide here for more info. The Coolbits registry edit is very simple though, and is not going to cause any negative effects.
To enable the 'Coolbits' tweak open REGEDIT ('start\run' then type 'regedit') and navigate to 'HKEY_LOCAL_MACHINE\Software\NVIDIA Corporation\Global\NVTweak'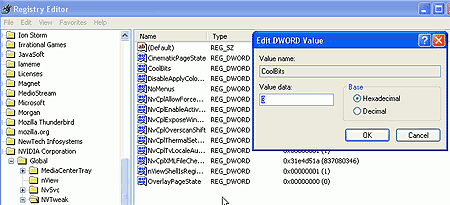 If the 'Coolbits' value is already present in the right hand pane, double click on it and change its value to '3'. If not, Right click in an empty area of the right hand pane and choose 'new\dword value'. Call the new value 'Coolbits' and give it a value of '3'.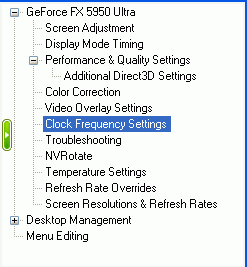 Close REGEDIT. Now when the nVidia display control panel is opened, there is a new 'clock frequency' page.