Overclocking Results:
As usual, the overclocking began by first lowering the CPU multiplier to 6x... When testing maximum memory speed it's vital to lower the CPU multiplier, otherwise it's very possible that the processor could be the bottleneck holding the memory back.
I set the Redline memory timings to 2-2-2-5 while keeping the default voltage of 2.7V and started to raise the motherboard's clock speed. Mushkin's HP3200 Redline DDR seemed to like overclocking this way, and I got up as high as 235 MHz before any stability problems cropped up. Raising the voltage to 2.9V stabilized that.
The system hit another snag at 244 MHz, this time we had to give the memory a big voltage increase, all the way up to 3.2V.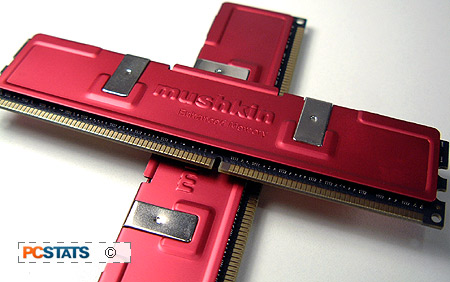 That did not just fix the problem it also allowed the memory to crack the 250 MHz barrier, with 2-2-2-5 memory timings, which is not bad at all! With 3.2V the memory went as high as 257 MHz before I started to experience stability issues again; the fix was simple though, I just raised the voltage further. ;-)
With 3.5V running through the Mushkin HP3200 Redline modules, the highest we could get the memory to run stable was a very impressive 261 MHz.
Even more voltage didn't get us any higher, but 261 MHz with 2-2-2-5 memory timings is nothing to scoff at. A side note, at this speed/voltage the heatspreaders were very hot ! I couldn't keep my fingers on the heatspreader for more than a few moments.
For fun I decided to loosen up timings all the way down to 3-4-4-8 to see how quick the memory would run. Starting at 261 MHz and keeping a voltage of 3.5V, the Mushkin HP3200 Redline memory went as high as 276 MHz which is pretty darn good. For testing purposes though we ran all the benchmarks at 261 MHz because I'm a low latency buff.
If you're new into overclocking never fear, Mike wrote a great article on the topic of pushing the various components in your system to the max. Even if you're an experienced enthusiast, the Beginners Guide: Overclocking the CPU, Motherboard and Memory is a must read. ;-)

pcstats test system specs:
processor:

amd athlon64 4000+

clock speed:

12 x 200 mhz = 2.4 ghz
9 x 261 mhz = 2.35 ghz

motherboards:

dfi lanparty nf4 sli-dr (nf4-sli)

videocard:

msi rx800xt-vtd256e

memory:

2x 512mb corsair twinx3200xl pro
2x 512mb centon gemini pc3200
2x 512mb ocz pc4000 gold dc vx
2x 512mb mushkin hp3200 redline

hard drive:
74gb western digital raptor
cdrom:
gigabyte go-w0808a dvd burner
powersupply:
pc power & cooling turbocool 510 sli
heatsink:
prometeia mach ii gt (review)
Software Setup

WindowsXP
Forceware NF4 6.53
Catalyst 5.4

Benchmarks

Business Winstone 2004
SiSoft Sandra 2005
PCMark04
3DMark2001SE
3DMark05
X2: The Threat
UT2003
UT2004
Doom 3