It's great to see how individual memory stacks up against one another under stock configuration, but we're also going to show how they stack up to each other when overclocked. The results are listed below for some of the recent memory to cross our test bench. All memory was tested at its most lax timings as well as its most aggressive. In terms of best overall overclocking performance, PCStats currently gives more weight to the combination of moderately high speeds and low latencies (2-2-2-5) than high speeds at the expense of latency timings.
Maximum Overclocked Speeds - PCstats Results

Maximum Speed w/ Low Latency

Timings

Max Speed

Ranking

OCZ PC4000 Gold DC VX
2-2-2-5
536 MHz
Mushkin HP3200 Redline
2-2-2-5
522 MHz
PDP PDC1G3200+XBLK PC3200
2-2-2-5

512 MHz

Mushkin PC3200 LII V2
2-2-2-5
508 MHz
Corsair TwinX1024-4400C25PT
2-2-2-5
506 MHz
Corsair TwinX3200XL
2-2-2-5
504 MHz
Centon GEMiNi PC3200
2-2-2-5
492 MHz
Crucial Ballistix Tracer PC4000
2-2-2-5
474 MHz
OCZ PC4800 Platinum
2-2-2-5
468 MHz
Corsair Xpert Memory PC3200
2-2-2-5
442 MHz

Maximum Speed

Timings

Max Speed

Ranking

OCZ PC4800 Platinum
2.5-4-4-10
636 MHz
Corsair TwinX1024-4400C25PT
2.5-4-4-8
624 MHz
Mushkin PC3200 LII V2
3-4-4-8
614 MHz
PDP PDC1G3200+XBLK PC3200
3-4-4-8
610 MHz
Centon GEMiNi PC3200
3-3-3-9
604 MHz
Crucial Ballistix Tracer PC4000
3-4-4-8
594 MHz
Corsair TwinX3200XL
3-4-4-8
574 MHz
OCZ PC4000 Gold DC VX
3-4-4-8
566 MHz
Mushkin HP3200 Redline
3-4-4-8
552 MHz
Corsair Xpert Memory PC3200
2.5-3-3-6
470 MHz
The Mushkin HP3200 Redline does extremely well for itself in the maximum overclocking tests especially where low latencies are considered. It's the second fastest set of DDR memory we've ever tested, and we went back to retest several different DIMMs too! Lowering the memory timings to 3-4-4-8 did not boost performance that much, but who cares? ;-)
Mushkin Redline is Fast!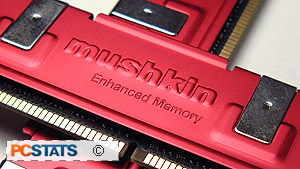 Enthusiasts are a crazy bunch, often willing to spend more on a single component like a videocard or extreme cooling than most consumers would on an entire computer. That much should be obvious when looking at the memory market, generic DDR memory prices have been dropping like a rock while prices for enthusiast calibre memory has stayed pretty consistent.
With motherboard manufacturers allowing more voltage options natively, this allows a lot more users to experiment with their hardware.
With a stock speed of 200 MHz and conservative timings of 2-3-2-6, the Mushkin HP3200 Redline doesn't look like anything special at first glace, but educated users know better. In our case the Mushkin HP3200 Redline test sample was able to hit an amazing 261 MHz while keeping 2-2-2-5 memory timings, but at a high voltage of 3.5V. At this voltage/speed, the HP3200 Redline got very hot and we definitely recommend users to actively cool the memory! With lax memory timings, the memory could run at a respectable 276 MHz, still very good.
The Mushkin HP3200 Redline retails for $196 CDN ($159 US) which is about double what generic PC3200 DDR RAM goes for, but one thing is for sure, you can't expect this type of speed from cheap memory! If you want to play the overclocking game you'd better be prepared to pay the price for super-speedy memory! ;-)
Find out about this and many other reviews by joining the Weekly PCstats.com Newsletter today! Catch all of PCstats latest hardware reviews right here.
Related Articles
Here are a few other articles that you might enjoy as well...
1. Centon Advanced GEMiNi PC3200 Dual-Channel Kit Review
2. Corsair Xpert TWINXP1024-3200XL DDR Memory Review
3. TwinMOS Speed Premium PC3200 DDR Review
4. PDP Systems Patriot PDC1G3200+XBLK DDR Memory Review
5. Corsair Twin2X1024-4300C3 DDR-2 Memory Review