By all accounts, analysts agree that ATIs CrossFire technology should breathe new life into the company's current high-end line of PCI Express videocards. Whereas nVIDIA's SLI system requires two identical videocards, CrossFire potentially allows consumers to use an existing videocard alongside one of the new CrossFire edition cards. An interesting take on the technology, and one that should make it more accessible to users on a budget.
Of course, whether or not CrossFire will require a new motherboard is not yet certain. The technology is supposed to be compatible with Intel's upcoming dual PCI Express x16 chipset, but whether ATi has allowed for CrossFire support on nVidia chipsets, is currently not clear.
In this review PCSTATS is testing the MSI RX850XT-TD256E videocard, which does not feature CrossFire. Based on the Radeon X850 XT, this PCI Express card is backed by 256MB of GDDR3 memory and supports VIVO, TV/S-Video output and component output. The ATi X850 series of GPUs are the current 3D performance leaders and the XT is the second fastest available GPU in the line.
As usual for MSI Computer, the software package is among the best on the market and includes full versions of XIII, Uru and Splinter Cell: Pandora Tomorrow. Other software includes FarStone's VirtualDrive and RestoreIT! software as well as CyberLink's DVD Solution software.

MSI RX850XT-TD256E




Includes:

Quick Installation Guide, Driver CD, MSI 3D Software, WinDVD, WinDVD Creator, Restore It!/Virtual Drive CD, Software Super Pack CD, 14 in 1 CD, URU CD, Splinter Cell Pandora Tomorrow CDs, XIII CDs, DVI to analog converter, S-Video to S-Video cable, VIVO cable, Molex to 6 pin 12V Power Cable
MSI has stuck with the reference design for the RX850XT-TD256E videocard, including the enormous aluminum and copper heatsink. I had hoped that MSI would engineer its own cooler to allow the card to be a single slot solution, but no such luck.
The X850 XT core draws quite a bit of power, too much for the PCI Express slot to handle, and that's also why there is an extra six pin 12V connector on the top right-hand corner of the videocard.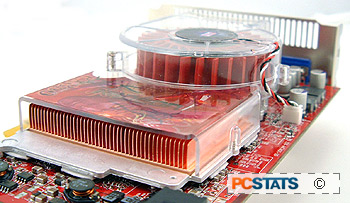 Along with the games and software, MSI includes an excellent supporting hardware bundle. There's a DVI to analog converter for those of you who use dual monitors and nice long S-Video and Composite cables, meaning you can hide the PC from view when using TV-out.
Component cables are not included, but since cable quality is such a large factor in HDTV image quality, it's better for MSI not to include any with the package in our opinion.
I was disappointed to see that MSI did not include an actual user manual with the RX850XT-TD256E videocard. I'm aware that one is on the driver CD, but that does not help much when your PC is down due to a problem.