Overclocking with a Heatsink and Fan
For the first round of overclocking tests a Thermalright XP-90 heatsink and 80mm Vantec Tornado were picked out and plucked down on the Athlon64 3700+. The Thermalright XP-90 is a little old considering what's come out on the heatsink market in the last six months, but still provides great cooling capacity when paired up with a high-speed high-noise fan like the Vantec Tornado. Furthermore, its the same heatsink that we used on all the Athlon64 3500+ overclocking tests, so things are more or less directly comparable. Anyone who uses a Tornado better be prepared for noise... the fan sounds like a cyclone.
Anyhow, the overclocking started at 200 MHz FSB with the clock multiplier set to 11x (stock). The motherboard clock speed was then increased in 5 MHz intervals. Surprisingly, the Athlon64 3700+ was well behaved with its stock voltage, and we easily pushed the FSB speed to 245 MHz (245MHz x 11 = 2.7 GHz) before the system began to show any instability. An increase in the core voltage to 1.45V solved that, and allowed the processor to go a little further.
Overclocking continued onward, but things became a little bumpy at 253 MHz (2.78 GHz) and more voltage to the CPU (1.5V) was required. Then at 255 MHz (2.81 GHz) the system fell back into an unstable area, and no matter what we did (voltages, memory dividers, etc) the processor wouldn't budge past 255 MHz.
Stability was tested with 24 hour session of Prime95, and speeds above 255MHz FSB failed. The memory was not to blame since it had been separately tested above 255 MHz with tight timings. CPU temperatures were high but acceptable, and according to the Smart Guardian software that comes with the DFI nF4-SLI DR motherboard, load temps hovered just below the 60 degree Celsius mark.
Still, an overclock of 2.8 GHz with just a simple little heatsink and high-speed fan is pretty decent for the AMD Athlon64 3700+ processor which run by default at 2.2GHz. I think you'll be surprised to see just how that 600MHz speed-boost translates when looking through the benchmark results... But first we try overclocking the CPU with the aide of an ECT Prometeia Mach II phase-change cooler!
Overclocking with Phase-Change Cooling
After putting ECT's awsome little Prometeia Mach II GT though its subzero paces, there's no way we can overlook a round of phase-change overclocking... so after hooking everything up, I pressed the power button and watched the temperatures drop. A few moments later the Prometeia Mach II GT powered on the rest of the computer, and I immediately loaded the BIOS and found that the processor was running at a chilly -27C.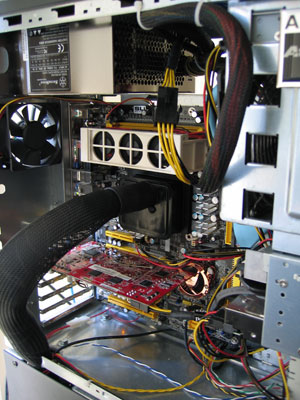 Returning the Athlon64 3700+ to stock settings, the motherboard clock speed was once more increased in ~5 MHz intervals. The DFI motherboard and Athlon64 3700+ easily passed the 255 MHz (2.81 GHz) limit of our previous round of overclocking.
It's worth noting that to get to 255MHz with a heatsink we had to resort to a whole bunch of voltage changes for things to remain stable. With a phase-change cooling system and temperatures of -30C, we didn't need to raise any voltage levels at all to get to the same point.
Moving on, at 263 MHz FSB the memory started to flake out causing the system to crash back to desktop when running 3D benchmarks. Lowering the memory divider from 1:1 to 9:10 solved this problem.
As the NF4-SLI DR motherboard broke the 265 MHz (2.92 GHz) barrier, the Athlon64 3700+ started to become unstable. This time the CPU core voltage needed to be increased to 1.5V to stabilize the system. As I pushed the processor further, it seemed to need more and more voltage, and at 275 MHz (3.02 GHz) I had to again increase it, this time to 1.6V.
It also became clear that Mushkin's PC4000 Redline DDR required a bit more voltage of its own to run stable. Perhaps the memory controller on San Diego core Athlon64 3700+ was a bit finicky? These experiences are not an isolated incident, as I know of other overclcokers who have experienced similar abnormalities.
In the end, with phase change cooling care of the Prometeia Mach II GT the Athlon64 3700+ topped out at a nice round 293 MHz (3.22 GHz). CPU core voltage had to be increased to 1.7V to keep things stable for a Prime95 24 hours burn in. I was hoping to hit 3.3 GHz (from a stock speed of 2.2GHz) but that just wasn't to be for this processor. Again, even with the best hardware it can still be the luck of the draw when it comes to CPU overclocking.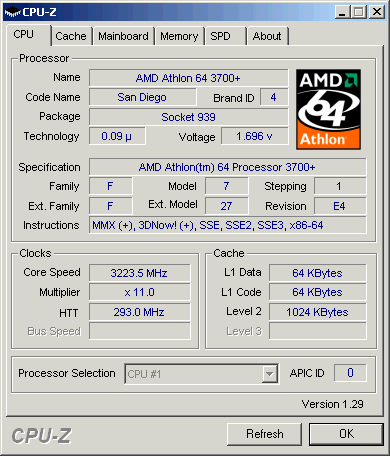 Any HVAC engineers in Canada reading this? If you're interested in helping us build a cascade cooler feel free to let us know...