The WIN 550UB's glossy black paint finish looks great, but users had best be ready to buff out finger prints and smudge marks. At the back of the Win 550UB we see a hard power switch, power plug as well as a 115/220V switch, make sure you have the right setting for your country before powering on! There is no rear exhaust fan since the 120mm internal fan is powerful enough to exhaust the heat by itself.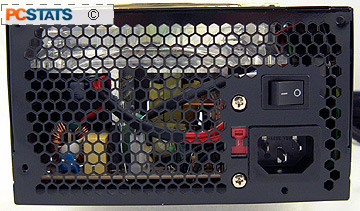 At the bottom of the power supply we see the 120mm translucent fan and gold coloured fan grill. During operation, the fan was completely silent and could not be heard although we did feel a decent amount of air pass through the grill. Those of you with case windows will love how the fan shines a bright blue.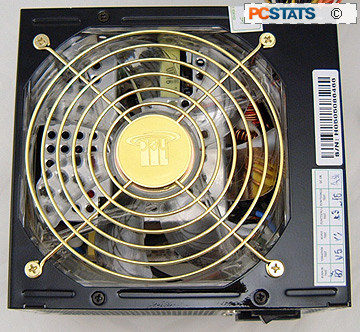 The rest of the power supply is nothing special to look at and as usual, there are no serviceable parts inside. Should you have problems you'll have to send the power supply back to HEC for replacement under its three year warranty.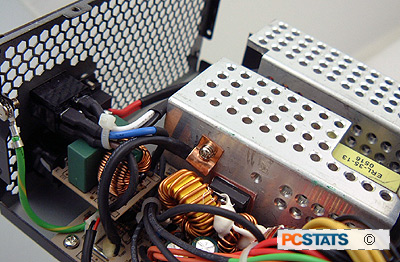 HEC's user manual, while thin, is very detailed and can provide novice users a wealth of information. For instance HEC states that the Win 550UB can operate with a maximum ambient case temperature of 50 degrees Celsius and that when operating above 40 degrees Celsius, the power supply begins to lose efficiency (1%/C).
The Win 550UB has quite a bit of protection built into it such as over temperature protection, over power protection, over voltage protection and short circuit protection although HEC does not state at what values would trip protection.
Awesome Cable Setup!
HEC has done an awesome job with keeping things tidy with the Win 550UB mesh cabling. Keeping things neat and tidy inside the case will not be a problem here and to top things off Hec even includes a handy velcro cable tie. The wires themselves are very flexible and mold quite easily which is always nice.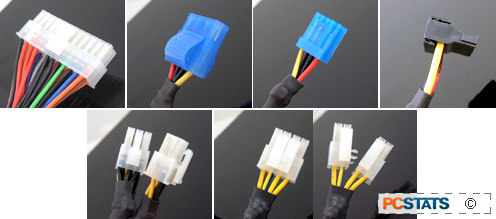 HEC equip the Win 550UB powersupply with easy grip molex connectors which makes them much easier to remove as there is more surface to grip onto without having to twist or yank the wires. It's a great little adjustment to the standard molex connector, as they can be quite difficult to remove if in a tight situation.
There are a total of eight molex power connectors, two floppy, four Serial ATA, and two 6 pin 12V videocard connectors. Quite a bit for the various system devices in your computer. There is also an EPS12V connector and ATXGES converter for your needs.