In the last couple years computer components like cases, fans, and case accessories have become drastically more aesthetically pleasing to look at. Power supplies on the other hand are pretty difficult to "spice up", but it's not impossible. Power supply manufacturers have taken to adding a bit of flair to their products by applying LED/UV reactive fans, mini cold cathode lights, clear windows, chrome plating, and even coloured cable sleeving. After all, if consumers have the choice between a regular power supply and one that looks fancy, which one is going to be purchased?
Acoustics, power efficiency, and the general build quality of the powersupply are an entirely different situation though. With the exception of noise output which can be tackled by appropriately sized fans, it's still difficult to find a good PSU in terms of power efficiency and build quality. Active Power Factor Correction (A-PFC) PSU's are the best, but non-active PFC units are the most common (and least costly). Build quality is a whole other ball game, and because it takes the use of an oscilloscope to properly measure and compare that aspect of power delivery, consumers are for all intense purposes shut out.
For this review of the HEC WinPower 550UB (HEC-550TW-TF) 550W powersupply, we'll be applying a couple of tests you can reproduce at home with available equipment, all with an eye towards seeing how this unit generally performs. The HEC Win550UB powersupply is rated to a peak of 550W power and features dual 12V lines with a combined output capabilities of 35A. The WIN 550UB adheres to the ATX 2.01 standard, but is compatible with 20-pin ATX motherboards.

Hec WinPower Win 550UB

Includes:

Users Manual, Power Cord, Velcro Tie Cable, Mounting Screws, AMD ATXGES Connector
According to HEC, the +3.3V line can deliver up to 32A and the +5V up to 38A, for a combined max output of 240W of power.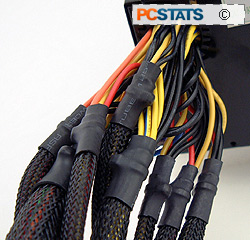 The WIN 550UB has two +12V rails, the first which can deliver 18A and the second which can pump out 17A. Those of you using large/full tower cases will love that the power cables are 60cm in length to the first connector. The WinPower 550UB is compatible with many standards, not just ATX 2.01. It's also fully Intel EPS 12V and AMD ATXGES compatible which means the power supply can be used with SOHO servers as well.... though that would not be our recommendation.
The Win 550UB features a main 24 pin ATX power connector and with pins 21-24 detachable, functions just fine in older ATX motherboards.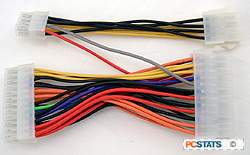 We like this method very much since it does away with a converter cable which can make cable management difficult.
The ATX 2.01 standard requires power supplies to natively support Serial ATA, and with this PSU users can connect up to four drives. For the other system devices, there are a total of eight molex and two floppy drive connectors, very handy for the user with a lot of devices!
The power supply also sports two six pin 12V connectors for dual PCI express videocards. Very handy! At first glance it looks like the ATX12V cable is missing but upon close inspection, we see that the EPS12V is cleverly split down the middle.