Foxconn is not motherboard manufacturer whose name many readers will be familiar with in North America, but there is a high possibility that you have used its products already if you have ever owned a Dell, HP or IBM brandname desktop PC. For the majority of its life, Foxconn has been involved in OEM computer peripheral manufacturing - making everything from motherboards for Dell PCs, to the slots, sockets, ports, brackets and jacks which dot all manner of computer electronics.
Based on its experience producing mainboards for other companies, Foxconn has within the last year and half been selling motherboards under its own brandname - Foxconn Winfast. Looking at Foxconn's product line and prices, it seems as though the company is targeting the entry level market. This makes sense since the company has a large manufacturing capacity and the vast majority of consumer sales are in this sector. The question we'll try to answer is whether or not Foxconn can build not only a well performing board, but whether it also knows how to deliver a product with all the features consumers actually want.
Today, PCStats will be checking out the econo line Foxconn WinFast NF4K8AC-8EKRS socket 939 Athlon64 motherboard. This motherboard is based on the vanilla nForce4 chipset and it seems like the only difference between this and the Ultra version is Serial ATA II (this version supports standard SATA). Other onboard features include a PCI Express x16 and two PCI Express x1 slots, an integrated 7.1 channel audio codec, Gigabit LAN and IEEE 1394a firewire.

Foxconn WinFast NF4K8AC-8EKRS



Includes:

Quick Install Guide, Driver CD, HDD Diskette, Serial ATA Cable, Molex Y Serial ATA Splitter Cable, IDE Cable, Floppy Cable, I/O Shield
The Foxconn WinFast NF4K8AC-8EKRS (that's a mouthful!) PCB is a bland shade of tan brown, but that shouldn't be a big deal as long as it does indeed perform well... As you can see, the NF4K8AC-8EKRS is full ATX size (24.5 x 30 cm), and attaches to the motherboard tray via ten mounting screws.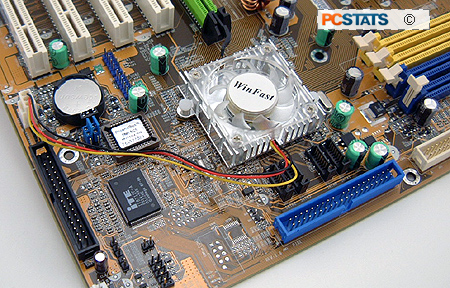 The layout of the NF4K8AC-8EKRS is decent and there is plenty of space around the nForce4 chipset should you want to replace the heatsink with something else.
The mounting holes line up with earlier generation chipsets, so there is already quite a selection of after market coolers on the market. If you do go ahead, just make sure the cooler is not too tall otherwise it might interfere with the PCI Express x16 videocard.
Despite being an entry level motherboard, we're happy to see that Foxconn WinFast included a full version of Norton Internet Security in with the NF4K8AC-8EKRS. It will no doubt keep users safe from viruses/hackers, now if Foxconn WinFast could only increase the subscription period to a full year...
The quick install guide that comes with the NF4K8AC-8EKRS motherboard is very detailed and easy to use. It almost makes up for the motherboard not being labelled all that well.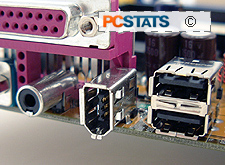 Still I would have liked to see a full fledged (printed) users manual included with the NF4K8AC-8EKRS instead of just the poster-sized quick start guide and digital manual on the CD.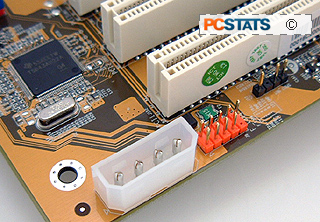 The Foxconn WinFast NF4K8AC-8EKRS comes with a flurry of integrated peripherals - a better solution in our books than a pile of PCI brackets and headers.
By that I mean, there is a IEEE 1394a Firewire as well as a coaxial SPDIF output on the rear I/O. Of course I would have liked to see a few more USB ports, four seems like too little.
There were a few things I didn't like about the Foxconn WinFast NF4K8AC-8EKRS motherboard. First by now I am sure you all know how much I dislike to see floppy drive connectors at the bottom of the motherboard...
Next and more perplexing is why Foxconn WinFast placed its auxiliary power connector on the bottom left hand corner of the board. While connecting it was not necessary for the motherboard to function, I'm still puzzled at why it is there since traditionally only NF4-SLI motherboards require extra power?