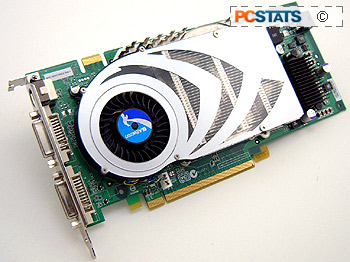 FanATIcs aside, I think it's safe to say that nVIDIA is currently dominating the videocard market; from entry level to mainstream and high end, nVIDIA has better offerings right now. Of course, the tables will probably turn if ATI can release something before the holidays.
At first glance the Albatron GeForce 7800 GTX is nothing special to look at, because it is the reference videocard with an Albatron sticker on its heatsink. Its reference GPU cooler is not too loud, and once the card is installed into the PC the 7800GTX is a pure monster. Albatron expect to have custom 7800 GTX videocards out on the market sometime in September, depending on how tight the GPU supply is from nVidia.
The Albatron GeForce 7800 GTX had absolutely no problems with any benchmark we threw at it, even when AA and AF are entered into the equation! The unit PCSTATS tested was a decent overclocker, reaching a modest 479 MHz core and 1347 MHz memory. Considering the mounting holes on the Albatron GeForce 7800 GTX are in the same location as the previous generation, enthusiast upgraders can port over their existing cooling hardware easily!
The software package that comes with the Albatron GeForce 7800 GTX is a bit weak but I doubt anyone would buy a 7800 GTX for a copy of Far Cry or HL2. Other than that I have no complaints at all, this card is simply awesome.
With a retail price of $735 CDN ($599 US), the Albatron GeForce 7800 GTX is expensive but it blows the doors off anything else. If for some reason you find that the videocard is not fast enough, you can get another 7800 GTX and run them in SLI. ;-) Your wallet might be hurting afterwards but your gaming experience will be unequaled!
Find out about this and many other reviews by joining the Weekly PCstats.com Newsletter today! Catch all of PCstats latest hardware reviews right here.
Related Articles
Here are a few other articles that you might enjoy as well...
1. ATI Radeon X800 XL Videocard Review
2. MSI NX6200TC-TD32E Geforce 6200TC Videocard Review
3. Nvidia Geforce 6600/6600GT Videocard Roundup
4. PowerColor Bravo X700 Videocard Review
5. MSI NX6600GT-VTD128SP Videocard Review