For the hardware enthusiast the component that inspires the greatest amount of awe is the videocard. Traditionally, videocards are the most expensive devices one can buy for a computer next to the CPU, and with the reintroduction of parallel video processing, the cost of being a hardware junkie has jumped dramatically. For the price of almost two entire entry level Dell PCs, you can buy one top of the line nVidia Geforce 7800GTX-based PCI Express videocard, double that for a twin-card SLI setup. Let it never be said that state of the art pixel-busting 3D graphics are cheap!
Usually, the newest generation of videocards are only marginally faster than the previous, but this time around the nVidia GeForce 7800 GTX blows the doors off of everything else. According to nVIDIA, the 7800 GTX GPU is supposed to have twice the rendering power of the previous high end solution, which means consumers potentially get 6800 Ultra SLI performance from a single 7800 GTX videocard. That sounds enticing doesn't it? Just imagine the frame rates two 7800 GTX's in SLI would be capable of producing... If that is not enough to get your heart pumping, you're spending your time in the wrong place - this is about as good as it gets!
The Albatron GeForce 7800GTX videocard is pretty darn impressive. In addion to its nVidia GeForce 7800 GTX GPU with 302 million transistors, the PCI Express x16 videocard packs 256MB of GDDR3 memory, SLi compatibility, a low-profile & low-noise heatsink, twin DVI video connections and support for a host of video input and output formats.
Albatron ship along a basic set of software and cabletry with the Albatron 7800GTX videocard so that every feature can be used (SLI bracket excluded), but there's nothing else in the box aside from the 7800GTX card to really get excited about.

Albatron 7800GTX Videocard




Includes:

Users Manual, Driver CD, Arx Fatalis CD, 5 Game Demo CD, PowerDirector CD, Dual Molex to six pin connector, Component Out Cable, S-Video to S-Video Cable, Composite to Composite Cable
Aside from the Albatron sticker on the GPU fan, the videocard PCSTATS tested is basically the nVIDIA 7800GTX reference card design. We were expecting to see a blue PCB since Albatron traditionally uses blue for its videocards, and have been informed by a company representative that custom Albatron 7800GTX's will start popping up in late summer. At 22.5 x 9.5 cm in size, the GeForce 7800 GTX is a laaaaarge videocard. If you're lucky enough to get one of these bad-boys, you'd best keep the cables inside of your PC nice and tidy!
The reference HSF on the Albatron GeForce 7800 GTX takes only one expansion slot, which is a nice change from what we saw when the Geforce 6800 first launched. Another nice thing for enthusiasts is that the heatsink mounting holes for the GeForce 7800 GTX line up with the 6800 class videocards which means users can port over existing after market coolers. If you do change the default cooling solution, make sure you find a way to cool the memory modules on the back since they run quite hot as well.

The stock temperature controlled fan is about 50mm in diameter and during testing was almost silent even with the Albatron GeForce 7800 GTX overclocked, and under full load! nVIDIA long ago enabled for temperature monitoring in its Forceware drivers, and according to that the 7800 GTX core idles around 40 degrees Celsius. There is no temperature logging function in the drivers, but third party programs like RivaTuner can show what the load temperatures would be like.
At stock speeds, the Albatron GeForce 7800 GTX core runs around 65 degrees Celsius, it's hot but not too bad. One thing is clear though you'd better have good case cooling if you plan on using a GeForce 7800 GTX videocard, it adds a lot of heat into equation!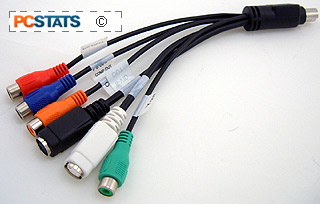 The Albatron GeForce 7800 GTX is an extremely fast gaming videocard, but it has features that make it useful for people dabbling in video editing, or a home theatre set up. The Albatron card supports S-Video/Composite output as well as component (Y, Pb, Pr), and also S-Video and composite input! Albatron include a S-Video cable and composite cable, but no Component (Y, Pb, Pr) cables. Considering how much high quality cables cost, including a good set would drastically increase the card's overall cost.
Albatron's traditional weak point is its software suite and things are no different with the high end Albatron 7800GTX videocard. In fact I probably would have preferred Albatron not include any software than throw in the three year old Arx Fatalis and five game demo CD. I suspect that consumers shopping around for a GeForce 7800 GTX videocard will not be influenced by the software packages, but Albatron really should improve this area.
As like previous generation videocards, the Albatron 7800GTX is SLI compatible. With the appropriate motherboard you can run two identical SLI-compatible videocards together, and in theory double a computer's 3D game rendering power. At the time of this review we did not have a second Albatron 7800GTX videocard to run SLI tests with, but from what we have seen henceforth dual 7800GTX's speeds are pretty awesome!