When one overclocks in the 32-bit world, we expect higher results. After all, a faster computer should lead to faster processing no matter the application, right? The next logical question is whether benchmarks would see similar results in a 64-bit computing environment? That's something we've been asking ourselves since the public release of the 64-bit Microsoft WindowsXP Professional x64 Edition operating system.
There are alternative 64-bit OSes on the market, but none have the appeal or the ability to reach as many users as Microsoft and its operating systems. Linux, FreeBSD, etc are simply too complicated for the average user who wants to plop in a CD and have everything pre-configured for them. I know there will be some who disagree with me, so bite your tonge for the moment as the focus of this article is 'overclocking in 64-bit,' not which 64-bit OS is best.
PCStats thought it would be interesting to see how overclocking is affected on the WindowsXP x64 Edition platform by illustrating both 32-bit and 64-bit benchmarks for an AMD Athlon64 4000+ based system. Would the test platform be stable enough to overclock successfully? Would WindowsXP x64 Edition require a more stable processor than its 32-bit counterpart does?
To test out this idea, we installed the trial version of Microsoft WindowsXP x64 Edition (180 day free trial) on an AMD Athlon64 rig and ran some 32-bit benchmarks as well as a few new 64-bit benchmarks which were supplied by AMD for the original release of 64-bit CPUs last year. Some of the results are as expected, but as you'll soon see, some of the results are quite unexpected!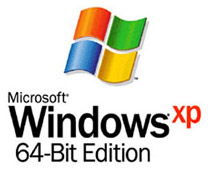 After running the stock benchmarks, I noticed that WindowsXP 64 seemed much harder on the computer when it was overclocked. By this I mean that when running the 64-bit OS, the computer would not overclock as high as it could go with a 32-bit version of Windows XP. I'm not sure what the reason behind this is, but it's definitely something to consider for the speed freaks out there. With the lack of 64-bit software, games, and an abundant supply of drivers, I can't really see this being much of an issue right now though.
As for overclocking, the maximum speed we could get the AMD Athlon64 to run at while using Microsoft WindowsXP x64 Edition operating system was 2.64 GHz. Anything higher and the system would spontaneously reboot. Playing around with voltages and even swapping out the power supply completely didn't do anything to increase stability. When running the 32-bit version of WindowsXP, the system had no problem running as high as 2.72 GHz (Prime95 stable). During testing the maximum temperature of the CPU hovered around the 50 degree Celsius mark, so cooling shouldn't be an issue.
Anyhow, let's have a look at the benchmarks to see what overclocking in a 64-bit environment brings to the table over the equivalent 32-bit PC system. A question to keep in mind while looking over our results is whether upgrading to the WindowsXP x64 Edition OS will translate into a nice performance boost for overclocked systems...

PCStats Test System Specs:
processor:

amd athlon64 4000+

clock speed:

12 x 200 mhz = 2.4 ghz
12 x 220 mhz = 2.64 ghz

motherboards:

dfi lanparty nf4 sli-dr (nf4 sli)

videocard:

msi rx800xt-vtd256

memory:

2x 512mb twinmos speed premium

hard drive:
74gb western digital raptor sata
cdrom:
gigabyte go-0808w dvd burner
powersupply:
seasonic super tornado 400w
software setup

windowsxp 32-bit edition
windowsxp 64-bit edition
forceware 6.53 (32-bit)
catalyst 5.4 (32 bit)
forceware 6.39 (64-bit)
catalyst beta 4 (64 bit)

workstation benchmarks

3dmark2001
3dmark05
super pi
hexus pifast
sisoft sandra 2005
sciencemark 2 (32 bit)
sciencemark 2 (64-bit)
minigzip (32-bit)
minigzip (64 bit)
divx encoder (32-bit)
divx encoder (64-bit)
cinebench 2003
specviewperf 8.0.1
ut2003
ut2004
doom 3
for an "apples to apples" comparison we only ran the system at 2.64 GHz for the overclocked 32-bit testing.