As you may have noticed, high-output, high-quality power supplies are becoming one of the most important components of modern computer systems. Gone are the days when any computer could be relied upon to run stably with a generic 300-Watt PSU. Today's dual-videocard, dual-core gaming monsters have some heavy power requirements; up to 450Watts or more in some cases!
Here at PCstats, we've been focusing on reviews high-output power supplies recently and today we have another for your reading pleasure. Ladies and Gentlemen, may I introduce the Akasa PowerPlus AK-P550FF 550Watt power supply. This is the first power supply we've reviewed from Akasa, a ten-year-old Taiwanese company that previously specialized in heatsinks, cases and PC modding equipment.
This 550Watt peak power supply uses Active Power Factor Correction (Active PFC) to increase efficiency, resulting in less wasted power for a given workload. We've tested several Active PFC supplies from other companies and found that to a unit, they decrease wasted power considerably. It's good to see this feature reaching a broader audience.
The Akasa PowerPlus AK-P550FF is advertised as a "server power supply" and splits its 12V delivery into four discrete rails, which should lead to more efficient and stable delivery of power. Dual-PCI Express video card power connectors are also featured, making this PSU certainly suitable for SLI (or Crossfire) systems.

Akasa PowerPlus AK-P550FF power supply

Includes:

Power Cord, triple fan connector cable, ATX 8-pin to 4-pin adaptor, screws.
The PowerPlus AK-P550FF uses the newer 24-pin ATX connector to supply power to the motherboard, but Akasa has provided for users with older motherboards by making the extra four pins detachable. You can simply snap them onto or off the main ATX connector depending on the type of motherboard you are using.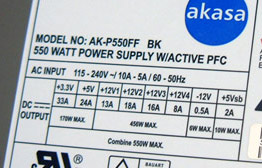 Label specs indicate that the Akasa PowerPlus AK-P550FF delivers 13A, 18A, 16A and 8A respectively on its four 12V rails, for a total of 55 Amps. The 3.3V rail can provide 33A, the +5V 24A, the -12V line 0.5A and the +5Vsb line 2A. Those are some hefty numbers, as you'd expect from a 550Watt power supply. The 12V lines have a combined power of 456Watts, while the 3.3 and 5V lines combine for 170Watts.
The Akasa PowerPlus AK-P550FF uses active Power Factor Correction. A-PFC circuitry eliminates the need for an external voltage level switch (115/230) on the power supply since it works with a wider voltage range (115VAC of North America to 230VAC of Europe) by default than PFC-based power supplies.
More importantly, active PFC allows power supplies to convert wall voltage to Direct Current (DC) much more efficiently, reducing the load placed on power supply components as well as wiring and even the city's power grid. Many countries require PFC in all new electronic devices, and we're big fans of Active PFC here at PCstats.
The Akasa PowerPlus AK-P550FF's box includes the PSU itself, a four-pin to eight-pin adaptor for the secondary 12V connection to the motherboard, a fan plug adaptor, screws and a standard power cord. No booklet or manual is included, but Akasa has provided ample specifications for the PSU on the box itself.
Two small holes on the side of the unit allow access to three small potentiometers which allow voltage adjustments to the 12V, 5V and 3.3V rails. We found the fact that Akasa chose not to document the function of these controls in any sort of manual rather disturbing, since the voltages can be increased enough to cause system instability, if not damage.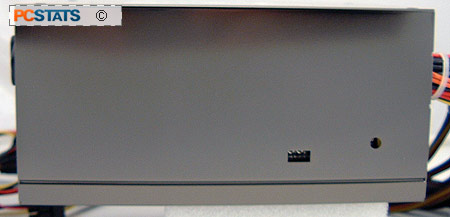 Akasa has opted to use easy grip heads for the 5V Molex drive connectors used to power IDE hard disks and CD drives. This is a great move, as it makes plugging and unplugging these connections vastly easier.