Like clockwork, Intel can be relied upon to keep churning out chipsets, as well as reasons to want to use them. First it was dual channel memory for Intel processors, then PCI Express, and now compatibility with the company's new dual-core Pentium D processors is the big selling point behind the Intel 945P/G and 955X Express chipsets which were released this spring. The Gigabyte GA-8I945P Pro motherboard offers full support for dual-core socket 775 Pentium 4 processors, but not the Extreme Edition series. This is the first time we've had a chance to look at an Intel dual-core processor and supporting motherboard in action, so we're quite excited about the whole thing.
Gigabyte's GA-8I945P Pro pairs up the Intel 945P chipset with the Intel ICH7R Southbridge, and supports Intel's new Pentium D dual core processors as well as any other recent LGA775 Intel Pentium 4 processor or Celeron. The Intel 945P chipset does not support the Pentium Extreme Edition dual-core processor however. The motherboard can run at 533MHz, 800MHz and 1066MHZ FSB speed with up to 4GB of dual channel DDR II memory installed. A single PCI Express x16 slot provides the graphical interface.
Two PCI Express x1 slots and three conventional PCI slots take care of further peripheral expansion needs, and the GA-8I945P Pro can support up to six IDE and four SATA II devices. Onboard peripherals include a GIGARaid IDE/RAID controller, a BroadCom Gigabit LAN adaptor and 7.1 channel Intel High Definition Sound courtesy of Realtek's ALC882 codec.

Gigabyte GA-8I945P Pro



Includes:

User manual, Driver CD, Cyberlink Software Suite and Norton Internet Security 2005, (2) SATA II cables, (2) IDE Cables, Floppy Drive Cable, one Molex to Serial ATA Power adaptor, USB 2.0/IEEE 1394B Bracket, I/O shield, northbridge fan.
Following along in the traditional Gigabyte manner, this motherboard comes with a nice pile of extras. The GA-8I945P Pro box packs in two SATA II cables, a Molex to SATA power adaptor (with two SATA power connectors), two IDE cables, one floppy cable and one dual-port USB bracket with IEE1394B and IEE1394 plugs. It's always good to see a motherboard that includes just about everything a user would need from the get-go.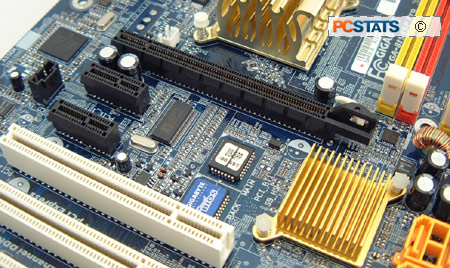 The included single-language manual is well written and covers all the basics, going more in-depth with BIOS settings than we are used to seeing. Also included is a multi-language illustrated hardware installation guide which essentially explains how to build a computer from start to finish. Gigabyte gains some user-friendliness marks with its documentation. The driver installation software is slick and easy to use too, though in our case it did not run automatically from the driver CD. We had to run the application directly first.
The GA-8I945P Pro board ships with a driver and software CD for the motherboard as well as a bonus software CD containing Norton Internet Security 2005 and versions of Cyberlink PowerProducer and Power2Go. Where Gigabyte has slipped up is by not including a floppy disk with the ICH-7R SATA drivers on it. Without these, Windows XP cannot 'see' SATA devices attached to the motherboard if the PC is being installed for the first time onto SATA mounted HDDs, so the floppy needs to be provided during the XP install process. The necessary drivers are included on CD, as is a program to create a driver floppy disk, but this is not explained in the documentation well.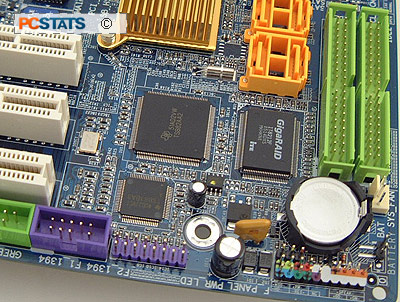 A new computer user trying to install Windows XP on this motherboard would be lost at this point. Gigabyte loses the user-friendliness marks they gained in the last paragraph. We've seen a few other motherboard manufacturers slip up like this recently too, so we hope it does not become a trend.
The component layout of the GA-8I945P Pro is good overall, and we found little to complain about. The IDE, SATA and floppy connectors are in good, easy to access positions and everything is fairly well labeled on the board. The GA-8I945P Pro motherboard can use either 20 or 24-pin ATX power connectors and comes with a small plastic insert to block off the unused four pins as necessary. We used 24-pin ATX powersupply for all testing.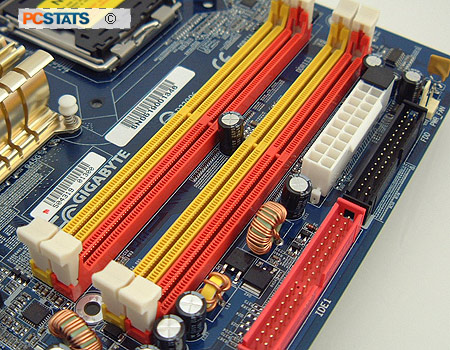 By default, the Intel 945P Northbridge chip is passively cooled, but Gigabyte has included a small 40mm fan that clips to the top of the heatsink. There's absolutely no reason not to use this, as installing it takes only a few seconds, even for a novice. We used the fan for all testing. The ICH-7R Southbridge chip also features a small passive heatsink and this got quite toasty during testing.