The general rule in computers is that as things get faster, more heat is produced. Over the years we've seen processor heatsinks, and to a lesser degree videocard coolers, increase in size to compensate for the ever larger amounts of heat they must dissipate.
Other devices such as motherboard chipsets have flirted with extravagant cooling solutions in the past, but in reality this was not really very necessarily until recently. nVIDIA's nForce2 was probably the first motherboard chipset that really benefitted from active cooling, and with modern chipsets, active cooling is a must. I guess the only exceptions these days are VIA based motherboards - most get away with a little green passive heatsink.
In general the hardware community has been quite tough on Asus. While its motherboards have performed well and are full of features, there has been grumblings about the heatsink Asus selected for its nForce4 motherboards. Well, the situation has certainly changed, and Asus has introduced an innovative heatpipe cooling solution on the NF4 SLI Northbridge for its newly re-spun Asus A8N-SLI Premium (rev 1.02) motherboard.
The 6mm diameter copper heatpipe draws heat away from the nVidia NF4-SLI chipset about 15-20cm to a section of fins which are also used to cool the power MOSFETs. The fin section is passively cooled by the adjacent AMD Athlon64 CPu fan exhaust airflow. While the technology being applied here is nothing new, it does remove one fan from the motherboard system, and that goes a little way towards reducing the overall noise signature of a PC. One word of warning however. Given that northbridge and MOSFETs are now both cooled by a relatively small section of heatsink fins, if watercooling or a phase change system is used on the processor, PCSTATS highly recommends that a fan be set up to direct airflow over the heatpipe heatsink.
Moving on, the list of onboard goodies built into the Asus A8N-SLI Premium include IEEE 1394a Firewire, two Gigabit NICs, 7.1 channel audio and an additional Serial ATA/RAID controller (for a total of 8 SATA headers). In terms of expansion, the motherboard offers up one PCI Express x1 slot, one PCI Express x4 slot and three traditional 32 bit PCI slots to the two PCI Express x16 sockets. Finally, the board can be used with any Socket 939 AMD Athlon64/FX CPU currently on the market, and up to 4GB of PC3200 DDR-RAM can be installed.

Asus A8N-SLI Premium



Includes:

User manual, Driver CD, WinDVD Software Suite, Hot Keys Template, Ultra/133 IDE Cable, Ultra/33 IDE Cable, Floppy Drive Cable, Jumpers, (8) Serial ATA Cables, Four Molex Y Serial ATA Power Cables, SLI Connector, IEEE 1394a Bracket, USB Bracket, USB/Game Port Bracket, Serial ATA Bracket, I/O Shield
The Asus A8N-SLI Premium looks quite nice and the layout of components on the motherboard is excellent. Kudos to the engineers at Asus for making installation as easy as possible for the end user. After years of complaining about bad component locations it seems like motherboard manufacturers are finally starting to listen! Quite a few nForce4-SLI motherboards we've tested recently are placing the main 24 pin ATX power connector and IDE/Floppy ports on the right hand side of the motherboard. This is great as it helps keep the system clear of potential cas airflow obstructions, and makes cable management a real breeze.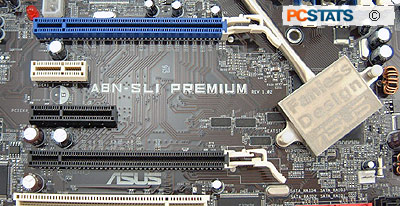 This next facet of the A8N-SLI Premium is a minor detail for the average user, but for the enthusiast, it's huge. Notice how the two PCI Express x16 SLI slots are placed farther apart? With most other motherboards, there's only one expansion space between the two PCI Express x16 slots, with the Asus A8N-SLI Premium there's two.
What this does is allow larger third party cooling solutions to be installed on the videocards, or even a water cooling apparatus. With a single slot separating PCI Express x16 SLi slots, the space restriction can become limiting for enthusiasts.
Running two videocards in SLI mode draws a lot of power. To help the motherboard deal with the additional load, Asus has also placed a dedicated molex connector just above the first PCI Express slot. Of course if you're only running a single videocard, no additional power is required for smooth operation.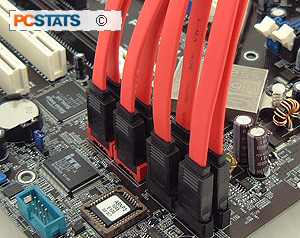 With LAN parties becoming more popular and devices in the PC getting larger and heavier, it makes sense for motherboard manufacturers to bundle in the metal SLI retention bracket, which is included here. When installed, the bracket ensures that the little SLI bridge does not come loose during transportation, and it also helps to keep the videocard snugly in their sockets.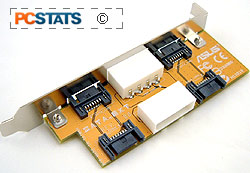 Up to two Serial ATA devices can be connected outside the case.
As the A8N-SLI Premium is a high end motherboard, Asus include all the necessary cables and brackets to take full advantage of its onboard peripherals. From USB/IEEE 1394 brackets to the eight Serial ATA cables and four Molex Y Serial ATA power cables, you won't need to go out and buy any accessories!
One feature that I hope catches on more are external Serial ATA expansion devices. A bracket comes with the board to facilitate two such connections; perhaps for an external Serial ATA HDD, or NAS. Considering that Serial ATA supports Hot Swapping, this potentially allows users to move data easily and faster than an external IEEE 1394 or USB HDD-based connection. The bracket can be hooked up to either the native nVidia NF4 Serial ATA II or Silicon Image Sil3114 Serial ATA controller. Just be careful if you do use a Serial ATA HDD externally, those devices do not like to be physically moved while they are operating!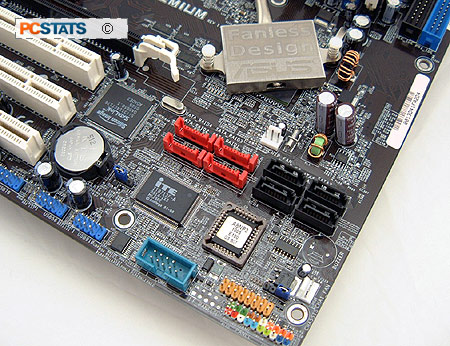 At first glance the feature set of the Asus A8N-SLI Premium is quite impressive, however upon closer inspection, it looks like Asus was trying more to meet a "marketing check list". My qualms lie with high bandwidth devices running through the PCI bus specifically. Asus equip the A8N-SLI Premium with a PCI IEEE 1394a, a PCI Gigabit LAN and a PCI Serial ATA controller, the latter two can bottleneck the PCI bus by themselves. I would have expected Asus to use a PCI Express compatible Gigabit network chipset as well as a PCI Express Serial ATA controller, but that is not the case. Had those devices been implemented through the PCI Express bus (probably at the expense of one of the PCI Express x4 slots) it would not potentially slow down the legacy PCI bus and allow both devices to operate at full speed.