The AOpen Prima Power AO700-12ALN power supply is jet black in colour with no real "features." Those of you with smaller cases looking for a direct swap will have no problem since as mentioned earlier, the AO700-12ALN is physically the same size as the average PSU: 14 x 15 x 8.5 cm in size.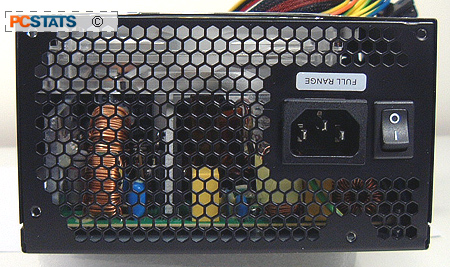 At the back of the power supply we are greeted by a large honeycomb grill which allows the hot exhaust air from the computer and PSU to exit the system. The honeycomb grill allows air to pass with less turbulence than slots or holes and expelling hot air from the system is very important. On the back we also find the power connector as well as the hard power switch. Noticeably missing is the 115/230V switch but as we mentioned earlier, it is not necessary sine the AO700-12ALN supports Active PFC.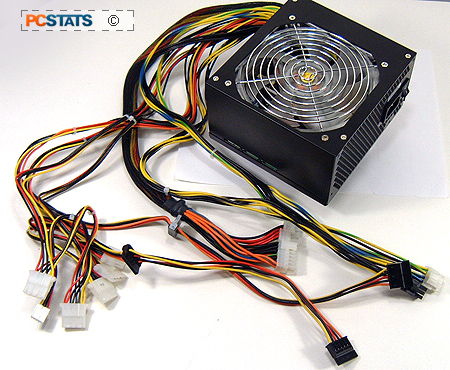 AOpen places a wire mesh around the main ATX power connector but not around any other cables. It is not as pretty but not a big deal since the wires AOpen uses are flexible. In terms of connectors, there is the main 24 pin ATX power connector, an ATX12V four/eight pin connector, (4) Serial ATA power connectors, (5) molex and (1) floppy connector. The Serial ATA lines are 55 cm to the first connector and the it is 50 cm to the first molex. Considering size of the power supply, we would have expected more molex connections as well as dual six pin 12V connectors for SLI/CrossFire videocards.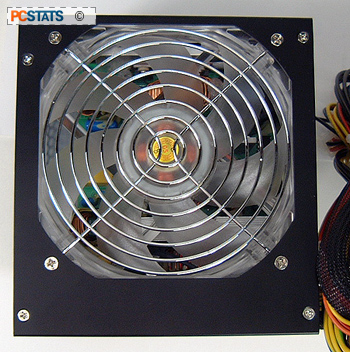 The blue LED illuminated 120mm fan is replaceable so that is good news should it die after a few years of use. There is one internal potentiometer inside the Prima Power AO700-12ALN, however AOpen does not state what it does so we left it alone. If your and electrical engineer and do decide to try your luck, only turn the potentiometer lightly otherwise you could damage the power supply when it is powered back on.