With the introduction of SLI videocard gaming in early 2005, and the recent release of Intel and AMD dual core processors, there has been a lot of focus on power supplies. A trick that many generic power supply manufacturers use to boost up a PSUs overall wattage rating, is by increasing the amount of power the 5V and 3.3V lines can provide while skimping on the 12V rail. Unfortunately uneducated users are often easily fooled by 500W or 600W numbers printed on the outside of the box, and fail to look more closely at how the power is distributed across the individual rails. This has spawned a lot of users to complain of PSU related problems in their local computer forums.
Here at PCStats we have long stressed that users look beyond the *overall* wattage rating of a power supply and focus on its individual 'power rail' amperage values. The number of rails will differ between models, but in all current cases the most important one is the 12V rail. Both the processor and videocard (the biggest energy hogs in a system) draw power from this rail.
A couple of years ago, a 500W power supply would be considered huge, these days a 500W PSU with a strong 12V rail rating is required for high end systems, especially SLI-capable ones. It is amazing to see how high power requirements have increased in the last little while.
When one thinks about enthusiast calibre power supplies, quite a few brands pop into mind; PC Power & Cooling, Seasonic, Vantec and OCZ (both utilizing Topower circuitry) are the first set I think of. AOpen is a brand that enthusiasts should consider. The company is really more accurately described as a collection of companies, each focusing on individual products, which has thus far translated well in terms of quality.
The AOpen Prima Power AO700-12ALN is a rather plain looking power supply, but one which has the ability to deliver a massive 700W of power and four separate 12V rails! To sweeten things, the AO700-12ALN is also very quiet thanks to the large 120mm fan generating 28.4 dBA at maximum RPM.

AOpen Prima Power AO700-12ALN
The AOpen Prima Power AO700-12ALN is a standard ATX sized PSU, and not noticeably heavier than an equivalent PSU in the 350W-500W range either. The AO700-12ALN adheres to the ATX 2.0 standard which calls for a 24 pin main ATX power connector as well as Serial ATA HDD power connectors and a six pin videocard power connector. Those of you with older hardware are not out of luck, pins 21-24 can be detached from the main connector to fit older motherboards. We'll go into the number of power connectors in a moment.
The most impressive feature of the AOpen Prima Power AO700-12ALN are its quad +12V rails, all four of which have a maximum rating of 15 Amps. The +3.3V line can deliver 36 Amps and the +5V line 30 Amps, but the maximum load of the +3.3V and +5V lines is 155W. The +3.3V, +5V and the four +12V rails can output a maximum of 680W and the total peak output of the power supply is 700W at an internal temperature of 35 degrees Celsius.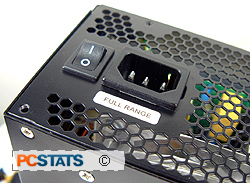 According to AOpen as the temperature inside the PSU rises, the Prima Power AO700-12ALN's maximum power output is lowered by 3W per degree Celsius and the PSU has a maximum internal temperature of 50 degrees Celsius. This temperature value is key to how some disreputable companies can get away with labeling junky units with really high Wattage figures.... they do this by quoting an unlikely low operating temperature for a specific Wattage.
Like many of the other power supplies that have passed through the PCStats test labs, the AOpen Prima Power AO700-12ALN supports Active PFC (Power Factor Correction). That means the AOpen PSU does not have the 115/230V switch on the back and will work anywhere in the world right out of the box.