SiSoft Sandra 2005
Source: Sandra
Sandra is designed to test the theoretical power of a complete system as well as the individual components. The results are also purely theoretical and may not represent real world performance. The Compact Flash cards were tested with a USB 2.0 Sandisk ImageMate 8-in-1 reader.
Centon C1GBCF
According to Sandra, the 1GB Centon C1GBCF CompactFlash card has a drive index of 4096KB/s which roughly equals a 27x transfer speed. We see that Sequential write and Random Write numbers peak at 6MB, which equals around 40x. It's strange that the Centon C1GBCF can write faster than it can read....
Crucial CT1GBC1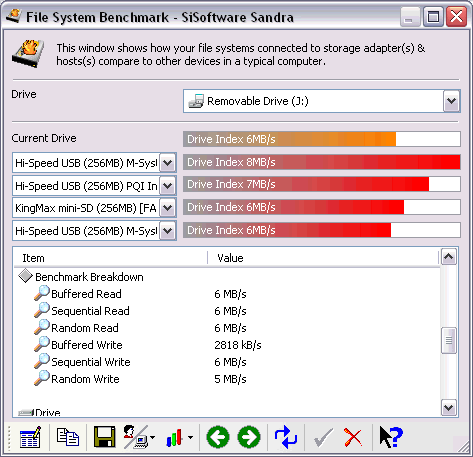 The Crucial 1GB CompactFlash card does very well for itself in Sandra, despite the fact that it has no official speed rating. According to the drive index, the Crucial flash card has a speed rating of approximately 40x. Its results are much more consistent than those of the Centon CF card.
Kingston Elite Pro CF/1024-S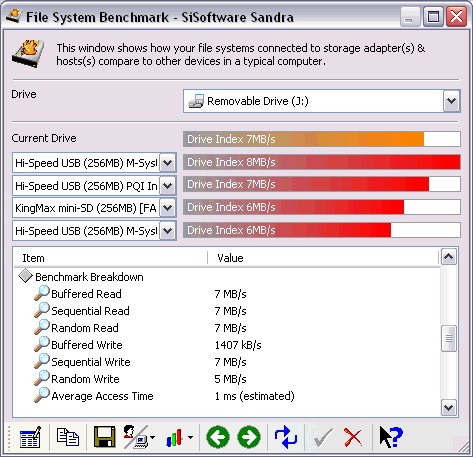 The high speed 1GB Kingston Elite Pro CompactFlash card is rated at 50x, and according to Sandra it comes pretty close to that mark. Our tests showed that it is capable of roughly 47x speed. Writing seems slightly slower than rated speed, but not by much. It's clear that the Kingston Elite Pro CF/1024-S is fast in cameras that can handle its speed!
IBM 1GB Microdrive DSCM-11000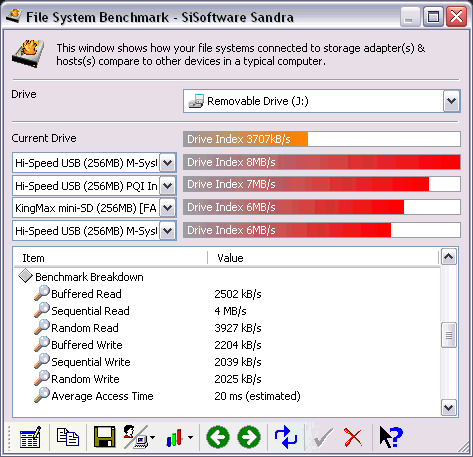 The HDD-style 1GB IBM Microdrive does pretty well for itself in Sandra considering its age. Maximum throughput seems to be around 25x.
Sandisk 1GB Extreme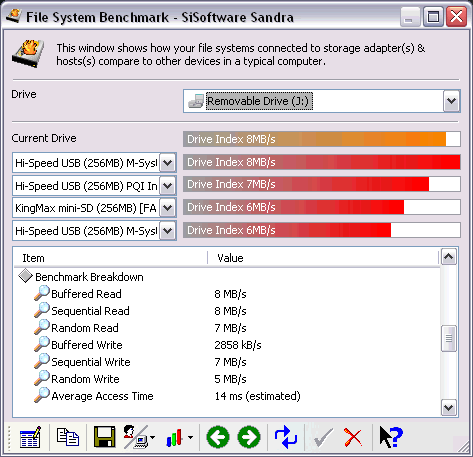 The Drive Index score indicates that the 1GB Sandisk Extreme Compact flash card has approximately 53x speed rating, and is the fastest card in this roundup.
Corsair CMFCF80-1GB 1GB Compact Flash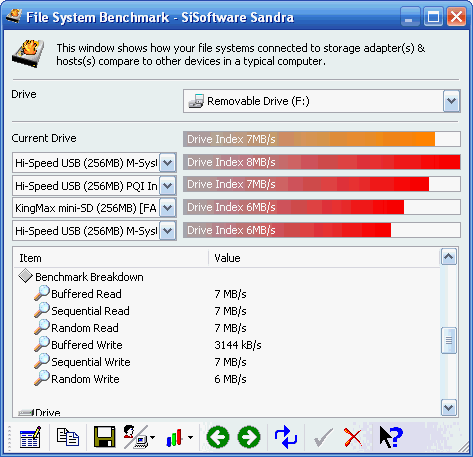 Please disregard the profile change, the test system is exactly the same. Despite a very fast 80x speed rating, the Corsair 1GB Compact Flah only gets a drive index of 7MB/s. Still fast but we would have expected higher.