The future of all media is digital, from music to videos to print, and photography is now in the midst of the transition.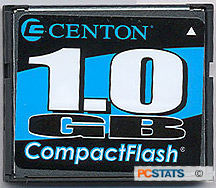 It makes a lot of sense to store visual data in a digital format, since all copies will be identical to the original and the quality will never degrade, something you can not say for any form of conventional film storage.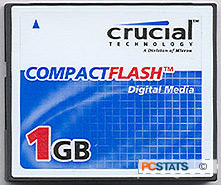 When buying a CompactFlash memory card, speed is an important marketing feature. The question is, does it make a difference in the real world? We decided to answer this question for ourselves and tested a variety of readily available CF cards with a small assortment of digital cameras. We wanted to see if the speed of the CF cards was more important than the internal speed at which digital cameras transfer data.
The first test camera was the Canon S500, now a mid-range consumer level point-and-shoot digital camera and one of the last consumer/CF cameras on the market. No matter which CF card was used, performance remained exactly the same. The Canon S500 simply could not write data from the frame buffer to memory card fast enough to show any differences between the different media.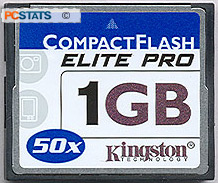 The next camera tested was the FujiFilm S2 Pro, a professional class digital SLR. Would there be a noticeable difference? When it comes to storing data in JPG or TIFF mode, performance was essentially identical across our test group. In the RAW image format tests, we did notice a slight difference between the higher rated media and the unrated CF cards, but nothing too significant.
The last test camera to be tested was the Nikon D70 digital SLR - a 2005 model. It obviously had a faster internal data transfer speed, and was quite capable of illustrating the differences between slower and faster CF cards. The high speed Corsair CMFCF80-1GB, Kingston Elite Pro and Sandisk Extreme CompactFlash cards routinely outperformed the unrated models, although the Crucial and Centon units still performed well.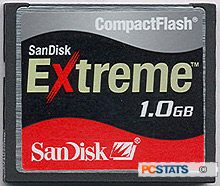 In USB 2.0 tests, results were closer than expected but the high speed Kingston Elite Pro and Sandisk Extreme CompactFlash media still led the pack by almost 1MB/s.
Well there you have it. If you are using a consumer level digital camera, paying more for a high speed CompactFlash card is not necessarily worth it. Things are a bit less clear in the digital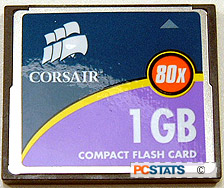 SLR realm, but it looks like newer cameras will take advantage of the speed offered by the high-end CF cards while older ones may not. It's difficult to make broad statements because the results are very camera specific, which underlines a point consumers should be aware of when shopping for CompactFlash media.
Basically though, unless you're into bragging rights, it seems like high-end Compact Flash cards are not necessary unless you're using an equally high end digital SLR that is two years old or less.
Find out about this and many other reviews by joining the Weekly PCstats.com Newsletter today! Catch all of PCstats latest hardware reviews right here.
Related Articles
Here are a few other articles that you might enjoy as well...
1. Beginners Guides: Diagnosing Bad Memory
2. Beginners Guides: RAM, Memory and Upgrading
3. Beginners Guides: USB Memory Drive Projects
4. Corsair Flash Voyager 512MB USB Flash Memory Review
5. Crucial Gizmo 2.0 512MB USB Hard Drive Review