Samsung includes Nero Express burning software with the WriteMaster SE-W164. It is more useful than most of the other standard burning utilities but I would have liked to see a full version of Nero Burning ROM instead.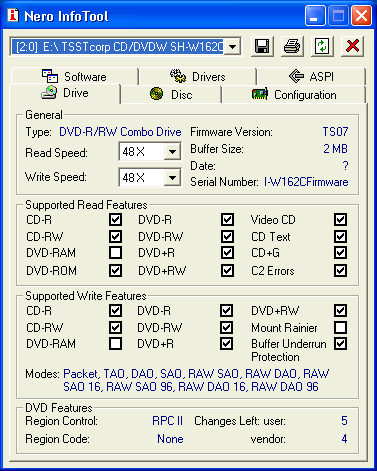 As you can see here the Samsung WriteMaster SE-W164 is compatible with pretty much every media standard except DVD-RAM. It does not support Mount Rainier writing.
Dual-Layer DVD Technology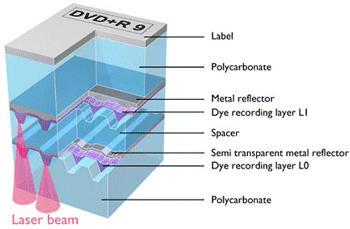 Dual-layer DVD media can store 8.4GB of data, which is exactly twice that of its single-layer counterparts capacity of 4.7GB. This is because DL DVD media has two dye layers for data recording. Heat caused by the drive's laser beam modifies the physical and chemical structure of each dye layer to form patterns which can be read by the same laser (at a lower intensity) as digital data.
Each dye layer is separated by a spacer and a metal reflector. The metal layer reflects the laser light, allowing the drive to 'read' the data by observing the reflections. The first reflector (positioned after the first dye layer) is semi-transparent; when the laser is focused a certain way, it will pass through this reflector and continue through to the second dye layer and bounce off the second metal reflector. This allows the drive to read the second layer of data. The second reflector is completely opaque and will not allow the laser beam to pass any further. Thus, by modulating the frequency of its laser beam, a dual-layer capable DVD-writer can read and write to dual-layer DVD discs.
There are a couple of ways to indicate dual-layer media. The most common is 'DVD+R DL' but it's also sometimes indicated as DVD+R9. Obviously, both the drive and the media need to be dual-layer capable in order to access the extra storage space afforded by these 8.4GB monster optical discs!

PCStats Test System Specs:
processor:

intel pentium d 840

clock speed:

16 x 200 mhz = 3.2 ghz

motherboards:

foxconn 955x7aa-8ekrs2 (955x)

videocard:

msi rx800xt-vtd256e

memory:

2x 512mb crucial ballistix pc5300 ddr2

hard drive:
74gb western digital raptor sata
cdrom:
aopen combo 52x
heatsink:
thermaltake jungle 512
powersupply:
seasonic super tornado 400w
software setup

windowsxp
intel inf 7.2

workstation benchmarks

cd winbench 99
sisoft sandra 2002
nero cd speed