Let's be frank, DVD writers are currently the best way for the average consumer to move data around. Other media formats like tape, USB keys or removeable HDDs might offer more storage space... but they're are not as convenient as a single DVD disc is given it's capacity and pervasiveness.
If you have a device which lacks room for an internal optical drive, perhaps a SFF PC, or notebook, what's one to do? The answer is easy, get an external DVD-burner! The choices today make that decision very easy; users can convert a traditional internal DVD burner to external one by getting an external drive bay, or find a commercials solution to that same effect.
PCSTATS has mainly been focusing on internal drives of late, and it's refreshing to look at something a bit different in this review - the Samsung WriteMaster SE-W164 external DVD burner. The drive connects via USB2.0 cable, and it handles data just as fast as any internal DVD writer on the market.
The Samsung WriteMaster SE-W164 is a USB 2.0 only device and sports a rather impressive maximum writing speed of 16x for single layer DVD media, 8x DVD+R DL burning, and 4x for DVD-R DL burning. That is smoking fast even when compared to today's internal DVD burners.

Samsung WriteMaster SE-W164 DVD Writer

Includes:

Quick Install Guide, USB 2.0 Cable, Burning Software CD, Vertical Stand, Power Adapter
The Samsung WriteMaster SE-W164 is a modest looking DVD burner which would go well with any laptop or SFF PC; its black and silver design is clean and not distracting. One thing to consider is that while the drive is USB 1.x backwards compatible, burning DVD media is out of the question since USB 1.x can only move a maximum of 11Mbps.... way to slow.

The face of the SE-W164 DVD writer is bare except for an activity LED, and open button. The DVD-R/RW, DVD+R/RW and high speed CD-R/RW logos shown here indicate the standards the SE-W164 is compatible with. You'll also find a green LED activity indicator, an emergency ejector pin hole as well as the eject button. A paper-clip works well if a CD ever gets jammed.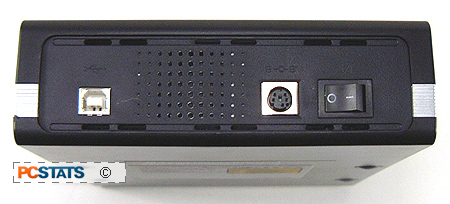 The rest of the drive is pretty non-discript, on the bottom there are four rubber pads which help dampen vibration as well as drive information such as serial/model number and on the back we find the USB B and power connectors, as well as the hard power switch.