The computer industry is in the midst of a transition and the computers of tomorrow will be quite different than what we're currently used to. With the old standby of a "die-shrink and ramped-up clock speeds" no longer possible due to increased power dissipation issues, processor manufacturers have turned the focus onto other means of improving performance on each new emerging class of CPU. The current method du jour is to pack two CPU cores onto one physical processor silicon die. This technique allows for a smoother ride, a nice little performance spike, and as more software is written with SMP support, application performance will also increase easily.
While gamers are at the cutting edge of technology (eagerly snapping up the most expensive videocards, CPUs and memory) it's the business and workstation world that benefits the most from dual core processors.
In the workstation arena, dual processor or SMP systems are common, and much of the software written for dual processor systems is compatible (a patch here or there might be necessary) with dual core processors. After all, the difference between two physical and two logical processors is only slight from the software's perspective.
Processors like AMD's 64-bit Athlon64 X2 series - dual core processors which are 32/64-bit operating system compatible - are a prime example.

Canada Computers Content Creator X2

Includes:
2.4GHz Athlon64 X2 4800+ CPU
2GB PC3200 DDR
500GB SATA HDD
(2) SLI Geforce 6800's
400W Powersupply
WindowsXP Pro OS

Sticker: $3400 CDN
The introduction of this series of CPUs by AMD has signaled a new shift in desktop computing that quickly saw rival Intel follow suit with its own class of dual core CPUs. However, major PC brands seem to be stuck in the past when it comes to selecting the processors for PC systems destined to find their way into endless corporate cubical farms. AMD is all but shut out of the game by Dell, Gateway and IBM.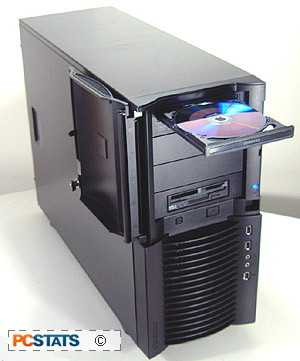 This brings up a good question; exactly how well does an AMD Athlon64 X2 based PC handle the workstation grade tasks of content creation found in a typical information age office? What happens when we throw in video editing, photo editing, flash creation, data compression, audio encoding, and plain old multitasking!?
For the answer to this content creating quandary, we'll be turning to Canada Computer's top of the line AMD X2 system, the Content Creator X2 + SLI Bundle. Built around a top of the line 2.4GHz dual core Athlon64 X2 4800+ CPU, and pre-installed with Microsoft WindowsXP Professional, the system should have plenty of potential pixel kicking power for anyone involved in heavy duty new media or content work.
Going into a little more detail, the Content Creator-X2 utilizes an Asus A8N-SLI DLX motherboard with two Gigabyte GeForce 6800GTs setup in SLI mode (the ' Content Creator-X2 SLI Upgrade' package), 2GB of OCZ PC3200 Platinum DDR memory, and twin Western Digital 250GB Caviar Serial ATA II hard drives in a RAID 0 configuration (that's a massive 500GB of storage space).
As the hard drives come preset in RAID 0, PCSTATS would highly recommend implementing a timely back up strategy.
While RAID 0 offers hard drive access performance advantages, it offers no data redundancy that anyone involved with creating content should most certainly be concerned with. It's an oversight, but one that could easily be corrected by changing the hard drive set up to a RAID 1 configuration which is also supported by the Asus A8N-SLI DLX motherboard.