Both AMD and Intel are firmly set on emphasizing multiple cores processors for all future processor releases. While Intel has generally stayed mum about the benefits vs. deficiencies of dual core processors, its partners have put on a marketing blitz and spin things as if dual core processors were the next best thing since sliced bread. AMD on the other hand has been quite up front with users, and it emphasizes the fact that dual core processors are best suited to the workstation/business world instead of gaming boxes where the company has typically been strongest.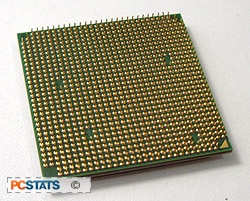 This makes a lot of sense, while the workstation market has many SMP compatible applications, there are almost no applications that are multi processor compatible for the consumer. The benchmark suite we ran virtually mirrors this statement, but we will get into that in a second.
If you are in the market for a heavy duty dual core processor, the AMD Athlon64 X2 4800+ is exactly what the doctor ordered. Featuring two cores running at 2.4 GHz both with 1MB of L2 cache integrated, the Athlon64 X2 4800+ can be lightning fast when used properly and is still a speed demon in single threaded applications.
The processor itself is physically identical to Socket 939 processors PCStats have tested in the past and the Athlon64 X2 4800+ will work in all current and future Socket 939 motherboards although a BIOS flash before hand may be necessary.
Under the hood the AMD Athlon64 X2 4800+ sports a massive 233.2 million transistors. The two cores share a single 128 bit DDR memory controller as well as a 2 GHz HyperTransport link to the rest of the system.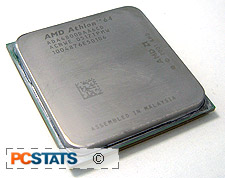 The AMD 'Toledo' core also supports Intel's SSE3 instructions and features "an improved memory controller".
In terms of performance, it should be no surprise that the AMD Athlon64 X2 4800+ is extremely fast. In the workstation applications that were SMP compatible, we saw some huge performance increases. For instance, the Maya render test went from 46 seconds with a single core to 28 seconds with the two cores enabled! We also saw a significant increase in SYSMark2004 results, and they are the highest performance values we have ever seen.
The AMD Athlon64 X2 4800+ processor is utterly banal in the gaming portion of the benchmarks. A much more affordable Athlon64 4000+ does just as well, which is hardly surprising, but worth pointing out just so everyone is clear on that point. Consumer level applications for the last twenty or so years have always been written to use a single processor. This is why having a second core does not provide any performance boost and is the same reason why AMD suggests the average consumer stick with a single core processor.
In terms of overclocking, the AMD Athlon64 X2 4800+ was pretty good, with an ECT Prometeia Mach II GT phase change cooler we were able to push this bad boy up to 3.14 GHz (maintaining 100% stability). As you saw from the benchmarks, this gave the processor a significant boost in the benchmark performance.
With a retail price of $1050 CDN ($880 US), the dual core AMD Athlon64 X2 4800+ processor is an expensive chip, but its computing power is unmatched. A word of advice though, if you plan to get yourself an Athlon64 X2 processor, you'd best do your homework and make sure the applications you are planning to run it with are dual core compatible.
Find out about this and many other reviews by joining the Weekly PCstats.com Newsletter today! Catch all of PCstats latest hardware reviews right here.
Related Articles
Here are a few other articles that you might enjoy as well...
1. The Technology Behind Dual Core CPUs
2. IBM's CELL Processor: Preview to Greatness?
3. AMD Athlon64 4000+ Socket 939 Processor Review
4. AMD Athlon64 - 64-bit vs. 32-bit Head On Comparison
5. AMD Athlon64 and AMD's 64-bit technology