Overclocking Results:
Over the years, AMD has allowed enthusiasts a lot of freedom to experiment with components although things have tightened up slightly with the release of the Athlon64. Sadly, gone is the full multiplier access in AMD's mainstream products, complete multiplier control is only available in its super high end 'FX' processors.
Considering the amount of heat the Athlon64 X2 4800+ produces while under load (110Watts), it's a perfect opportunity to place it under the freezing Prometeia Mach II GT evaporator. I wanted to get the best performance possible, and as the test memory has been tested up to 270ish running 2-2-2-5 with 3.8V, we kept things running 1:1.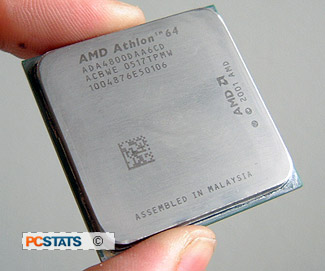 Right from the get-go the Athlon64 X2 4800+ started to have problems at 217 MHz.... weird. The system just kept BSOD'ing while booting WindowsXP. Increasing the CPU voltage to 1.35V seemed to stabilize that, and we were able to continue onwards with the overclocking. The CPU hit another snag at 236 MHz, and once more a voltage increase was the necessary solution. This time the voltage was bumped to 1.4V. At 243 MHz the system had problems POSTing and, you guessed it CPU voltage solved this problem.
To reach the 3.0 GHz mark, the voltage was increased further still to 1.5V. Of course since we were testing the Athlon64 X2 4800+ with a phase change cooler, the system was able to compensate for the increased heat output while still maintaining sub-zero temperatures. If you attempt overclocking with a standard heatsink, we do not recommend increasing the voltage this high. The Athlon64 X2 4800+ produces a heck of a lot of heat.
Never satisfied, we continued to increase the motherboard clock speeds, and in the end we could run the Athlon64 X2 4800+ at 3.14 GHz (262 MHz) 100% stable with 1.7V. As you will see shortly, overclocking did boost performance very nicely in the benchmarks. Be warned though, you had better have a very good cooling solution before attempting anything like this. Now, on to the benchmarks!

PCStats Test System Specs:
system 1
system 2
processor:

intel pentium 4 540
intel pentium d 840

athlon64 4000+
athlon64 x2 4800+

clock speed:
16 x 200 mhz = 3.2 ghz
12 x 200 mhz = 2.4 ghz
12 x 262 mhz = 3.14 ghz
motherboards:

gigabyte ga-8anxp-d, i925x
gigabyte ga-81955x royal

dfi lanparty nf4 sli-dr

videocard:
msi rx800xt-vtd

msi rx800xt-vtd

memory:
2x 512mb crucial ballistix pc5300

2x 512mb corsair twinx3200xl pro

hard drive:
74gb western digital raptor
74gb western digital raptor
cdrom:
msi x48 cd-rw/dvd-rom
nec 52x cd-rom
powersupply:
vantec stealth 470w
vantec stealth 470w
heatsink:
thermaltake jungle 512
prometeia mach ii gt (review)
Software Setup

WindowsXP
WindowsXP 64
Intel INF 7.2.1.1003
Catalyst 5.6

WindowsXP
WindowsXP 64
nVIDIA nForce4 6.53
Catalyst 5.6

Benchmarks

SYSmark 2004
Business Winstone 2004
Content Creation 2004
SiSoft Sandra 2005
Cinebench 2003 (32/64 Bit)
Maya Render Test
ScienceMark 2.0 (32/64 Bit)
Super Pi 1.1
Hexus piFast 4.1
POVray 3.1g
PCMark04
PCMark05
3DMark2001
3DMark05
Comanche 4
UT2003
UT2004
Doom 3

Overclocked tests were run in the 32-bit WindowsXP environment only.