Intel is one of the few companies that can push the entire computer industry in the direction it wants. That direction is currently taking shape in the form of muli-core processing, which naturally requires the newest chipsets to be fully realized.
There are many benefits to multi-core processors; high end workstations and servers have long been equipped with more than CPU, allowing SMP-capable programs to distribute work loads. Depending on the applications and operating system, multi-processing environments can make a significant impact or have virtually none.
With both Intel and AMD firmly devoted to dual core processors in the foreseeable future, one would expect a flurry of dual core capable software should be hitting the market... yet at the moment this aspect of the dream being marketed is sadly overlooked. Neither the common FPS game, nor most software applications are SMP compatible. Still, future-proofing is always a good route to take, and if you are scouting out new Intel socket 775 systems, there is no reason not to look at motherboards which support dual core CPUs. Take for example the Foxconn 945P7AA-8EKRS2 motherboard which is based on the Intel 945P chipset that PCSTATS is testing today.
The Foxconn 945P7AA-8EKRS2 supports 533/800/1066 MHz FSB Pentium 4/D and Extreme Edition processors and can be equipped with up to 4GB of non ECC DDR2-667 memory. The board has plenty of onboard expansion ports, such as an additional IDE/RAID controller, dual Gigabit NICs, IEEE 1394a and Intel's Azalia audio controller.

Foxconn 945P7AA-8EKRS2 Motherboard

Includes:

Quick Installation Guide Users Manual, Driver CD, HDD Driver Diskettes, Ultra/133 IDE Cables, Two Serial ATA cables, One Rounded Floppy Cable, Two Molex Y Serial ATA Power Cables,IEEE 1394b bracket, USB Bracket, I/O Shield
The 945P7AA-8EKRS2 includes three open 32bit PCI slots for legacy peripherals and two PCI Express x1 slots for high bandwidth devices. A single PCI Express x16 slot handles the graphics.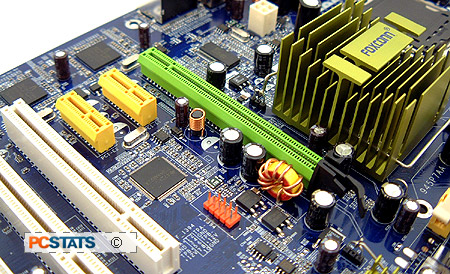 The board itself is full size ATX (24.5 x 30cm) and can mount to the motherboard back plate via nine screw-mounts. The board is well labeled, but I would have liked to see Foxconn colour coordinate the front panel I/O headers. From the Serial ATA/DIMM slots to the CPU socket and main ATX power connector, finding one's way around the expansion slots is uncomplicated.
Intel has been pushing the Serial ATA HDD standard very hard and its newest ICHx chipsets now only support a single IDE channel. That can be a problem for anyone who is upgrading from a PC with a perfectly fine set of IDE drives - why should we have to buy all new SATA drives? Foxconn makes the transition between old and new easier by integrating the ITE IT8212F IDE/RAID controller onto the motherboard. The user benefits with an extra two IDE channels, or in other words support for four additional IDE devices.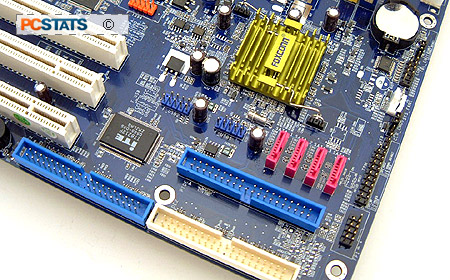 Foxconn make installing the motherboard a breeze with a well written manual and helpful quick install guide. The manual covers everything from power pin outs to BIOS settings and even includes a how to on drivers. The installation guide covers many topics, and I like the high resolution pictures of the USB/IEEE 1394 ports. Pin-outs are clearly explained, so is little confusion as possible as to which header does what.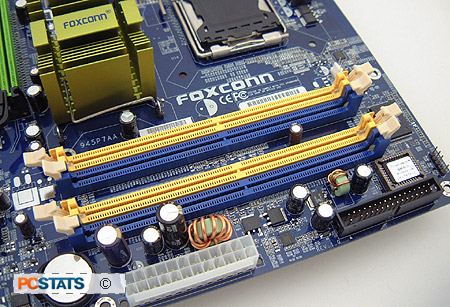 The Foxconn 945P7AA-8EKRS2 motherboard comes with two Broadcom Gigabit NICs integrated into the motherboard. The first BCM5789 is a PCI Express x1 network card and should be the primary network device on the motherboard. The second BCM5788 is a PCI solution which means under heavy network traffic, the network card can potentially get boggled down. I would have liked to see a dual PCI Express solution especially since the 945P supports 20 PCI Express lanes and only 19 are being used by the 945P7AA-8EKRS2 motherboard.