Overclocking Results:
Before I began to overclock the Corsair Twin2X1024-8000UL memory, I first set it to run at 800 MHz mode. The Corsair Twin2X1024-8000UL memory does have a default rating of 1000 MHz, but the MSI P4N Diamond test motherboard does not allow anything that high. While the BIOS says the P4N Diamond allows the memory to run independently of the FSB, we found the motherboard functioned best when running linked to the FSB.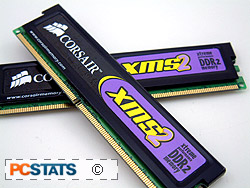 Starting at 800 MHz (FSB and memory) I increased slowly increased both at 20 MHz intervals. Do not let the high sounding jump alarm you since MSI configures the P4N Diamond BIOS a bit differently than with previous boards. Instead of raising the FSB MSI gets users to increase the bus speed. That means increasing the processor bus speed by 4 MHz brings up the FSB by 1 MHz.
Things went by pretty smoothly all the way up to 880 MHz, at this speed the system would start to drop back to dkest
Continuing upwards at 900 MHz, the motherboard started to give me some problems, it would lock up at POST or while booting Windows. Increasing the chipset voltage to 1.6V solved those problems and allowed the board to go higher. In the end we hit a maximum speed of 950 MHz, 50 MHz shy of the Twin2X1024-8000UL's top rated speed. I have a feeling something else was holding the memory back as the errors I was getting do not seem related to the Corsair Twin2X1024-8000UL modules.

pcstats test system specs:
processor:

intel pentium d 840

clock speed:

16 x 200 mhz = 3.2 ghz
16 x 239 mhz = 3.82 ghz

motherboards:

dfi lanparty nf4 sli-dr (nf4-sli)

videocard:

msi nx7800gtx-v2d256e

memory:

2x 512mb crucial ballistix pc2-4200
2x 512mb mushkin pc2-4200
2x 512mb corsair twin2x1024-8000ul

hard drive:
74gb western digital raptor
cdrom:
gigabyte go-w0808a dvd burner
powersupply:
pc power & cooling turbocool 510 sli
heatsink:
athlon64 4000+ reference heatsink
software setup

windowsxp
forceware nf4 6.53
forceware 77.77

benchmarks

business winstone 2004
sisoft sandra 2005
pcmark04
pcmark05
3dmark2001se
3dmark05
ut2003
ut2004
doom 3
Winstone 2004
Source: Zdnet
Business Winstone 2004 runs real applications through a series of scripted activities and uses the time a PC takes to complete these activities to produce its performance scores.
Benchmarks:
Business Winstone 2004:
Points
Ranking
2x 512MB Mushkin PC2-4200 (200/533)
26
2x 512MB Crucial Ballistix PC2-5300 (200/667)
26.7
2x 512MB Corsair Twin2X1024-8000UL (200/800)
27.4
2x 512MB Corsair Twin2X1024-8000UL (239/957)
30.6
At stock speeds in Business Winstone 2004, we do see quite a substantial gain from running higher bandwidth memory. The applications in this benchmark are dual core compatible thus it is important to feed each core with enough bandwidth and only high speed memory like Corsair's Twin2X1024-8000UL can do that.
SiSoft Sandra 2005
Source:Sandra
Sandra is designed to test the theoretical power of a complete system as well as the individual components. The results are also purely theoretical and may not represent real world performance.
Sisoft Sandra 2005 Benchmark Results
Memory
Integer SSE2:
Float SSE2:

2x 512MB Mushkin PC2-4200 (200/533)

4906
4903
2x 512MB Crucial Ballistix PC2-5300 (200/667)
5041
5036
2x 512MB Corsair Twin2X1024-8000UL (200/800)
5083
5072
2x 512MB Corsair Twin2X1024-8000UL (239/957)
5716
5714
Memory bandwidth between different speed DIMMs is very close, but the Corsair PC2-8000UL does provide the most at stock speeds. Overclocking the system slightly boosts memory performance as well.