From dual channel memory to dual core processors, it seems as though anything that can be doubled up is getting the treatment. Intel and AMD moved towards dual core processors out of a real necessity, but make no mistake, dual videocards are 100% pure luxury. Now, if you have to "justify" twin graphics cards to yourself or a significant other... they do offer more flexibility when it comes to upgrades. For example, instead of buying a brand new card as a replacement, consumers can buy a videocard from the same generation (which should be cheaper) and run them together (assuming each card is SLI compatible, and SLI is supported by the motherboard).
With nVIDIA dropping the price of NF4-SLI chipsets as a preemptive strike against ATi's CrossFire, hardware enthusiasts looking to buy a new motherboard should definitely get one that is dual PCI Express videocard compatible; whether you choose the ATi or nVIDIA route is your decision.
Currently the king of the hill in the videocard world is the Nvidia GeForce 7800GTX core. It is so fast that even just one GeForce 7800GTX videocard is quicker than the previous top of the line Geforce solution running in SLI mode! I wish we saw this type of performance boost from CPUs every time a new processor was released.
MSI videocards are traditionally some of the best on the market, largely because the company bundles the most value into its products by including lots and lots of extras. The MSI NX7800GTX-VT2D256E PCI Express videocards we'll be testing in this review, in single and SLI mode, each come with a full version of the highly popular "The Chronicles of Riddick: Escape From Butcher Bay" video game. Those of you who are into video editing will also appreciate VIVO (Video In/Video Out) support. Please note that all GeForce 7800GTX cards are PCI Express only, so if you have a computer that uses 8XAGP videocards, it's a good time to upgrade your motherboard.

MSI NX7800GTX-VT2D256E




Includes:

Quick Install Guide x2, The Chronicles of Riddick: Escape From Butcher Bay, S-Video to S-Video Cable, VIVO/Component Break Out Cable, Dual Molex to Six pin Power Connector
As you can see here, the MSI NX7800GTX-VT2D256E looks identical to the other two GeForce 7800 GTX videocards PCSTATS has tested recently... aside from the sticker on the fan. The card comes in a compact box which is a nice change from the really big ones that MSI used to employ for every major videocard it produced.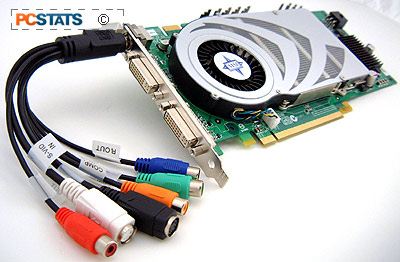 Along with the MSI NX7800GTX-VT2D256E is a nicely labeled VIVO break-out cable. The six connections include three for component output (Y, Pb, Pr), two S-Video in/out and a single composite-in (RCA) connector. Users can hook up this videocard to a TV or multimedia device pretty easily, though we would have preferred to see a composite-in as well. A standard 6' long S-Video cable is also included with the contents of the box, but no other signal cables are.
Digital Video Interface based displays are the way of the future and we're pleased to see MSI (and practically every other manufacturer) has equipped its high end videocards with dual DVI connectors. It would have been nice if MSI could include two DVI to analog converters instead of just one.... but I guess you can't win them all. ;-)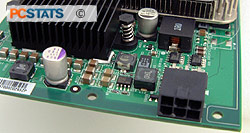 MSI traditionally includes some of the best software bundles on the market with its videocards, and the NX7800GTX-VT2D256E is no different. The only thing is, now that users can combine two videocards for more performance, perhaps MSI should consider releasing multiple versions of the software bundled in with the NX7800GTX-VT2D256E videocard?. This way, users would not get stuck with two copies of every game, and I think it would definitely increase this 7800GTX's appeal.
Like all other GeForce 7800 GTX-cass videocards, the MSI NX7800GTX-VT2D256E is quite large. It measures in at 10x23cm in size so you had better have a full-ATX case. A single GeForce 7800GTX creates quite a lot of heat, running two in SLI doubles that, so we'd say it's vital for potential users better have good case cooling. And no, leaving the side panel off the case is not a fix.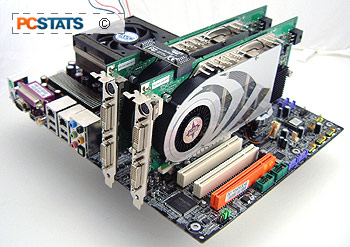 As you can see, the top videocard is extremely close to the back of the lower one on the MSI K8N Neo 4 motherboard, so proper case cooling is a must otherwise it is very possible that the top videocard may overheat. During testing the top GeForce 7800GTX would routinely idle between 55 and 60 degrees Celsius while load temps topped the 75 degree Celsius barrier! Very hot but within normal operating temperatures.
If you plan on getting a GeForce 7800GTX class videocard, you better have a power supply that can dish out enough power. By default the MSI NX7800GTX-VT2D256E requires a six pin power connection, but if you do not have that do not fear. MSI includes a converter that uses two molex connections. For the purposes of this review, we'll be testing these two 7800GTX's out on MSI's K8N Neo4 Platinum SLI motherboard with a 400W Seasonic powersupply. Let's check out the benchmark scores, but first let the overclocking begin!